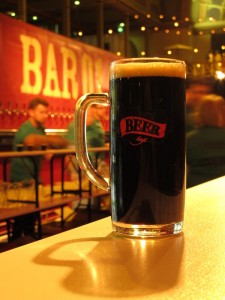 At GABS, I was understudy for Local Taphouse's Guy Greenstone, who was set to host 'Beerista' introductory tasting sessions at the 'Craft Beer College' series of free seminars running at the festival. He had a run-in with pneumonia, but was looking hearty during Friday's Session One, so I seemed to be in the clear. Until about ten minutes before showtime. I was called in, hurried upstairs — from the front door, where I'd been head-counting for the security guys — and stumbled through (well, it seemed to me; apparently it went fine) a fun little chat about on How To Taste A Beer And Thereafter Ramble A Bit About It — with much-appreciated help from Pete Mitcham. Tremendous fun, in the end, but a bit hectic and nerve-wracking on short notice and (as I keep pleading, I know) little sleep.
So: a beer. A proper glass thereof, no mere tasting paddle would do. And no other beer made as much immediate sense as Garage Project's 'Double Day of the Dead' — the miraculous resurrection / version 2.0 / GABS 2012 Special Edition Reprint of 'Day of the Dead', my favourite beer of 2011. Weirdly, given the tactical shift I made just recently, this also amounts to my first-ever actual Diary entry here online for a Garage Project beer. Which feels very odd given how often I bang on about them in the podcasts (one of which was recorded with them, in their actual garage)1 and how very-many of their beers are waiting in my notebook ready to be uploaded (soon — ish), but these are the consequences of falling way behind in my rambling.
The beer, like its first edition, is a strong (and moreso, second time out) black lager, made with cocoa, agave syrup (i.e., the precursor to Tequila), and smoked chipotle chili. I vaguely recall something being mentioned about a dose of vanilla, too, for this batch — but I have a notoriously crappy memory. It's got a lot going on, but all the components get along harmoniously and feel like they're there for a reason. Despite a somewhat-similar shape but a briefer bill of adjuncts, it feels quite a lot more purposeful than Resolute's 'Zaragoza', for example. The booze and the chili add a comforting-but-confronting warmth, the agave (with the vanilla, if I didn't just hallunicate its mention) seems to smooth out the base nicely, and the cocoa has the wonderfully dusty quality of the tiny little shards of smashed hollow Easter chocolate. It's fantastic, and was just exactly what I needed.
GABS bought a lot of each beer — running back-of-the-envelope calculations on what the event must've involved, money-wise, damn-near did my head in earlier today — and must've taken the entire run of many beers that appeared. Not quite so with this one, I was able to tell those jealous Wellingtonians who could only live their Spectapular through me and my all-day Twitter ramblings. There's a small amount stashed aside and we'll probably see some of it around town soon. And hopefully some more a few months' from now, for the Día de los Muertos itself — after it spends the intervening time on holiday in a bourbon barrel. Which is a pretty fucking exciting prospect, if you ask me.
And as I mention in my notes, a proper-glass at GABS was a little on the steep side, price-wise — this was a relative bargain, at $10 worth of tokens, roundabout in the middle of a $6 to $16 range2 — but that's probably inevitable, given the nature of the event as one stocked almost-entirely with one-off brews. Plus, it pays to remember, that's me writing as someone a) presently unemployed, b) spending New Zealand dollars in Australia with a non-delightful exchange rate, and additionally c) a person who earnt those slightly-limp New Zealand dollars on criminally-underpaid bartender wages.
Original Diary entry: GABS Glass #1: Garage Project 'Double Day of the Dead' 11/5/12 Reward for crash-replacing the host of Beerista. Proper glasses are crazyexpensive, though I can see why. Two notches up in strength, and I can tell: a little booze-heat evident before the chili heat. Cocoa — upgraded to Whittaker's — is lovely and dusty in that weird way I like. Still nicely balanced and well-assembled, given its many adjuncts. (A dash of vanilla this year, I think they said.) A worthy resurrection.
---
1: When it was incredibly empty, in hindsight. There was a big comfy couch where the brewhouse now stands and barely enough spare space to swing a proverbial cat. It's been replaced by all sorts of lovely shiny stainless steel.
2: The low end was populated by a surprisingly-varied collection of beers not necessarily united in gentler strength or simpler-looking recipes whereas the high end of the territory was held by Renaissance's Oak-aged edition of their much-loved and marvellous 'Stonecutter'. Despite the high price, I kept hearing good things about it from various visitors — and the GABS organisers did make the wise and simplifying move of making all tasters one token, whatever the price of their full glass.
3: With apologies for the considerably crappier camera in my phone, not the ultra-lovely one I always have in my bag. I suppose I was just enjoying my beer to much, and didn't think to re-take the shot with the mask, after snapping that image for the Twitters.