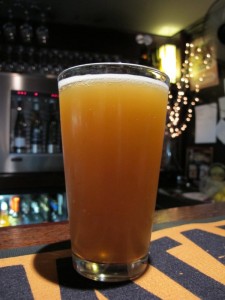 If it weren't for that Firestone, we'd have just had ourselves a three-peat of Liberty beers here in my Diary. Unlike the others, though, this has Liberty's Joseph Wood in Collaboration Mode. It's an emerging trend in the local scene, and Joe's one of the keenest participants, it seems — he worked with Yeastie Boys for their 'Warrior' and 'Monster' beers, was part of the hophead 'Four Horseman of the Hopocalypse' supergroup (with Hallertau's Steve Plowman and Epic's Luke Nicholas and Kelly Ryan), and joined in with the NZ Craft Beer TV 'Mash Up' project. Hell, he's even said he's keen to collaborate with me, in what could be the greatest-ever excuse for a summer roadtrip. In a sense — in, I pause to stress, a positive sense — he's something of our industry's Timbaland, in that regard.1
So here we are with a Taranaki Team Up; New Plymouth's Liberty and Urenui's 'Mike's' / White Cliffs. Fortunately for all concerned, they brewed this one at the latter, which has nearly ten times the capacity of the former. Because if this had been overly-scarce, things could've easily gotten all Mad Max as us beer geeks squabbled over the dregs. It was a crowd-pleasing thing of oomph and deliciousness, loaded with that kind of enthusiastic fruit-bowl boistrousness that we've come to love 8 Wired's 'Hopwired' IPA for. The comparisons to that really are inescapable and rather strong, but — just as I said with the also-striking resemblance between Three Boys' Oyster Stout and Emerson's Southern Clam Stout — you'd be very hard-pressed indeed to find something more worth emulating. TPA has popped up a few times since, and seems to have slightly drifted towards the 'healthy bronze' end of the colour palette, rather than its initial 'luminous gold'.2 But it continues to be great fun, continues to be somewhat-dangerously-drinkable (given its heft), and will hopefully make a few more appearances over the summer.
As my notes lament, I was meant to be bartending at Matariki (speaking, as I was quite-recently, of beer festivals), but some administrative snafu best left forgotten meant that I'd just be doing my regular gig that day. My pint of TPA helped compensate very nicely indeed — not least because it (and the batch-to-batch Hud-to-Hud comparison that Stu from Yeastie Boys had arranged for a few of us geeks to celebrate the second edition of the equally-boozy 'Hud-a-wa"), put an uncharacteristically-cheerful shine into the start of my work-day, bless it.
Verbatim: Liberty / Mike's Taranaki Pale Ale 25/6/11 7.1% on tap @ HZ, after Hud-to-Hud batch trial with Stu, Martin, Tim, Amy, Shannon & Annika. Another improm[p]tu geek con. They're all off to Matariki, and I was meant to be. Sadface. So a pint + a pie before work. Hazy, pale peach. All the big-crazy fruit salad, a la Hopwired. Fruitier than a row of tents, says Martin. It's like Emerson's Southern Clam after Three Boys Oyster; name one token more worth emulating.
---
1: If I hadn't already compared one of his beers, the staggeringly awesome 'Never Go Back', itself to Samuel L. Jackson, that'd be even more apposite and more obviously-positive. There was a time, which probably just coincided with me watching more movies, where he just seemed to be in everything, and awesome in everything — stealing the show in tiny little bit parts like right at the end of Out of Sight. The man's been in over a hundred films, for God's sake; Wikipedia feels obliged to put his 'Filmography' on its own page, and just look how many cram into each year.
2: My photo doesn't quite do it justice. Perhaps because of the lighting in Hashigo, or perhaps because mine was from fairly far down the keg (if I remember rightly), and things can get extra-hazy with hop-loaded goodness — just like they did with my 'Taranaki Session Beer', coincidentally enough. Alice Galletly had a similar problem, lamenting that her plastic-on-a-picnic drinkware didn't do it justice. But just check out Kevin McLellan's photo — Alice and I ain't lyin'; that stuff was gorgeous.

Uploaded, at last: 4 December 2011