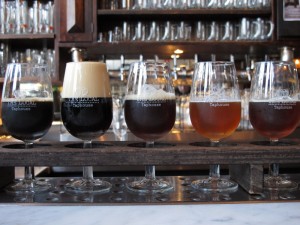 When you're waiting for your plane home to Wellington, when you've been staying with friends in the near-Southern suburbs of Melbourne, when you're in a post-Spectapular state of beery bliss mixed pleasantly with mild lethargy — and when, perhaps, you're me — there really is no answer to "what shall I do this afternoon?" other than: wander down the road to the Local Taphouse and mooch.1
I do love the Taphouse; it's just so completely my kind of pub in a bajillion different ways. And to make matters even better, a good friend of mine (and former colleague from two crappy bars here in Wellington) had transplanted there and had the day shift. She fixed me a medically-necessary coffee, ordered an equally-mandatory stonking great big burger and poured a terrifically mood-improving beer in the form of a little glass of Mountain Goat 'Hightail', an old favourite of mine. I first met it at Beervana one year, then the leftover kegs joined us at Malthouse, and its easy-going, surefooted and balanced nature admirably coped with the rather unusual "go-with-this-breakfast" task I set.
We sat, we rambled, and we had a few little tasters of various beers. It was a perfect little afternoon at the pub; an ideal dose of simple hospitality after our grand and busy weekend. The Brooklyn East India Pale Ale caught our eye — hailing, as we do, from a country where that style term is famously abused by one of the nation's biggest-selling mass-market sweet brown lagers2 — and charmed us with its very old-school marmaladey Englishness, as did a bottle of Moon Dog 'Melon Gibson', a slightly-sour fruit beer from a "Marvellous Mullets" series (together, brilliantly, with 'MacGuava' and 'Billy Ray Citrus') and a welcome case of swagger and silliness accompanying worthy and interesting beer, rather than the former being used as a substitute for the latter; Moon Dog seem refreshingly capable of both.
It's hard to resist a tasting paddle when you're at the Taphouse,3 so before I realised how little time we had before we needed to head to the airport (through some combination of my lousy memory and being too accustomed to my little City, perhaps), I picked a fairly-random collection of things from the Big Board. Brew Boys' 'Ace of Spades', my first of theirs, would've made even better sense with my coffee (but the burger, probably not so much) and was wonderfully fat, full and roasty. The Holgate 'Temptress' which followed was a fantastic contrast, with obvious chocolate and vanilla sweetness and the lovely smoothness that Nitrogen can give — and all the niggling dispense issues it can cause, which just kept K.T. happy supplied with a steady stream of leftovers.
Changing favour gears rather drastically to 3 Ravens 'Ale Noir', a smoked-and-Pinot-barrelled dark was rather confusing and confronting, but the beer seemed potentially quite interesting — not that I'll get another chance with it; the brewery seems to've closed between then and now, sadly. After all that, Mornington's IPA, perhaps inevitably, came across as outrageously fruity, almost to the point of absurdity. Generously hefty in the flavour department, it was full of citrus-peel bitterness that crackled across my brain. Those to in combination set me up nicely for the Australian Brewery's Smoked IPA, which turned out surprisingly accessible; the smoke in 'Ale Noir' had that baconny, Rashuns-ish edge, but this had the sparkly notes you get if you squeeze orange peel into a candle flame, which made all the sense in the world given its citrussy pale ale base.
And then, pretty damn sated, we bid farewell and made our way to the airport and back home to Wellington. It was a freakin' excellent weekend in the dear old Melb, and the Taphouse team deserve a lot of credit for GABS and their utterly-lovely home base. I'll definitely be back next year, and hopefully considerably sooner than that.
Original Diary entry: Post-GABS Taphouse Afternoon Mooch 14/5/12 with Dom + Dave, and KT behind the bar. Coffee + Hightail + a sublime burger to start, then little tasters of Brooklyn EIPA + Moon Dog Melon Gibson. Before a near obligatory paddle: Australian Brewery Smoked IPA (5.9%), Mornington IPA (6.2%), 3 Ravens 'Ale Noir' (Smoked, 5.4% — Their Dark, aged in Pinot Noir barrels), Holgate 'Temptress' (Choc porter, 6%), Brewboys 'Ace of Spades' (Nitro stout, 5.9%). Going backwards, since nothing really seems strategically obvious. AOS: Big, fat + full roasty bitterness. HT is crazy smooth, vanilla evident (and a bitch to pour, so KT gets plenty of dregs) AN: Weird, a little confusing, but intersting. MIPA: Ludicrously fruit nose, after all those. Big citrus peel bitter body, afterward. SMIPA: Surprisingly accessible, given all that. AN is definitely baconny + Rashuns-y, this just has a little of that burning squeezed-pith sparkle.
---
1: Possible idiosyncratic dialect alert: I tend to use mooch in the lesser-but-still legit intransitive sense of "to loiter / wander about aimlessly" rather than the more-pejorative transitive one of "to obtain freely, esp. by subtle begging". But it also does bear pointing out that Dom (owner of Hashigo Zakea and fellow GABS volunteer) did pick up the tab for all three of us, which was a bloody lovely thing to do.
— a: Coincidentally, I've just made another potential-conflict disclosure — because I'll be joining the Hashigo staff as an occasional fill-in to ease the squeezier weeks in their roster, earn me a little more beer money and keep my bartending muscles from atrophying — so I should get a few words of praise out of the way now, since the following thoughts were ultra-confirmed over GABS weekend. Hashigo really do genuinely invest in their staff (in ways varying from the mundane, like generous staff discount, to the spectacular, such as bringing his second-in-command along to Melbourne most-expenses-paid or arranging staff to go visit breweries and join in making one-off beers), and it shows. Their staff turnover is incredibly low, in an industry famous for high rates but a sector wherein accrued product knowledge and familiarity with regular customers and craft beer notables is absolutely key. The Fork & Brewer, which opened late last year and still hasn't quite found its feet, is teetering right on the border of complete (i.e. 100%) turnover of its front of house staff — the last time Hashigo had a "new guy" was a year ago. Therein lies a difference worth watching, and worth learning from, if you ask me; it's a pretty key symptom and cause of the health of any given bar in this scene.
2: Style-wise, Tui is really a "New Zealand Draught", and (deservedly) cleans up in that category at the local beer awards. D.B., who produce it, are typically proud to shout awards from the hilltops (with a decades-old trophy still boasted on Export Dry's label, and Tui's 'Blond' sibling crowing about its more-recent successes), but they just can't quite bring themselves to celebrate Tui being an award-winning something when it's marketed as a something-else. Given how freely they bullshit about style on all other occasions, that's frankly a pathetic lack of conviction. (I'd also go further and suggest that beer awards should have a little more muscle on the issue and just bar beers from being entered into categories that are contradicted by their presentation to the public.)
3: I assume. I've never tried.