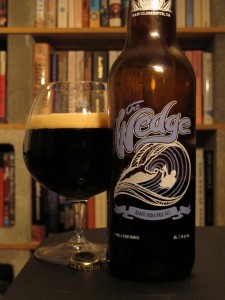 It appears I might have "Black IPA" on the brain. Or hoppy porter, at least — the question of whether the one is the other is an enjoyable piece of modern beer taxonomy for me to ponder as I have a nice glass of something-dark on a wintery evening. I suspect I drink more dark beers in cooler weather,1 and Wellington is capable of serving up a bastard-cold evening every now and then. The local market is keeping me well-stocked, too: the few-days-before-this Funk Estate launch, the new Black Rye IPA from Renaissance (which is a few pages after this, further down the Diary), and — from the looks of it2 — there'll be three-or-so at the West Coast IPA Challenge at the Malthouse next Friday night.
We had a bit of a house-warming shindig one night not long ago, here at my new (ish — we were slow in organising the party) flat, and I have a strange relationship with parties; I often find myself at a point of people-overdose and want a break. My occasionally-acute aversion to crowds and noise and such is often surprising to people who met me through the fact that I was a bartender for ages upon aeons, but the bartending was genuinely secondary to the prior fact of me being nocturnal. But the great thing — it turns out — about being a host of a party from which you fancy some time off is that your room is right there.
So I hid myself away for a while, wrote up a post — the one about my visit to Josie Bones, which did make me ravenously hungry — and drank this lovely thing. Another U.S. West Coast import from Hashigo, I'd picked it up from Regional, where Kieran and I had a bit of a Black-IPA-related ramble in which he was also3 saying things along the lines of overt hoppiness as necessary but not sufficient for something to be properly "Black IPA"; it being more about the character of that hoppiness. He pointed to 'The Wedge' as an example of something that should probably more-properly be "hoppy porter" — but which was no less worthy, for it.
It was exactly what I needed, in a break and beer. A generous 640ml (ish — peculiar Americans and their non-metric measurments…) bottle of loveliness, it kept me company while I hacked away at my keyboard and had genuinely delightful smooth, slightly smoky body that didn't really even hint at its not-insubstantial strength. It was all chocolate and fruit, with a more-wintery kind of nose than Funk Estate's beer, but I start to get hopelessly out of my league, sometimes, when it comes to identifying particular fruits or their flavours. To me, it tasted gloriously reminiscent of Whittaker's Berry & Biscuit chocolate,4 with that Black-Forest-esque berries-and-cherry thing going on.
Again, if I had to categorise — if I'm given the taxonomy question like some kind of much-more-fun but much-less-productive travelling naturalist — then this ain't Black IPA. But that's just good-natured (I hope) fastidiousness and a concern for how getting the label text right and as helpful as possible is important in terms of 'outreach' to new customers / fresh good-beer-converts / anyone with imperfect information and impermanent guidance we can rely on (i.e., all of us). Here, the label is all hops-hops-hops in now-familiar style, but I can't resist thinking that they're simultaneously overstating their case and selling themselves short. They weren't face-punchingly bitter hop notes such as you might get from a West Coast IPA with the h-word on the label that frequently,5 and the chocolatey malt they enriched (and gave that high-dose-cocoa edge) deserved to be called more than "a twist". This was a fucking marvellous beer; well-balanced and worthy, whatever its label. And once I'd finished the bottle — and hit the Big Blue Publish Button on the post I was writing — I re-emerged from my room and rejoined the party.
Original Diary entry: Left Coast 'The Wedge' 26/5/12 @ home, hiding from a party. Writing some blog instead, and with Black IPA on the brain. This is almost smoky, though I did warm it well, and with a duller-fruit nose than PKB or Funk. Struggling to Name That Fruit, as I do. Emma's beloved Berry & Biscuit chocolate, almost. (7.1%, 1 pt 6 floz, $15-ish) Beautifully smooth + soft. You'd never suspect 7%. This is pitched as BIPA but is in instructively-similar territory to the previous.
---
1: I assume. I haven't actually charted anything, yet. But I do keep meaning to. There should be some amusing number-crunching, graph-making pseudo-mathematics lurking in my Diary.
2: Croucher Patriot was a (fantastic) hoppy-and-black-thing / American-style Porter / American Black Ale / Black IPA, and a 'Cascade Patriot' is on the list of contenders. The Yeastie Boys and Liberty Brewing are also again releasing twin beers, as Motueka and Yakima Raven. The place names signify the origin of the hops in each version (N.Z. or U.S.), and — especially after very red Jo's Yakima Scarlet — Raven pretty-strongly suggests a Black IPA.
3: By "also" I mean like what I was saying about Funk Estate without meaning to imply that Kieran felt the same way about Funk's beer. I honestly can't remember which box he thought it best fit.
4: Something I've become familiar with (and fond of) through Emma's enthusiastic-to-the-point-of-obsession liking for it; it accounted for a sizable fraction of her luggage allowance.
5: Given Hashigo's maximally-cautious method of importing these things, I think it's disregardably-unlikely that this was a more-aggressive beer that'd just rusted and atrophied down to the milder-mannered thing I met. But I suppose you never know.