Karma is a bitch, sometimes. One day, I upload a podcast in which I make a flippant reference to wishing that trench foot isn't lost from the world — I'm not even sure why I did; these things just ramble out of my brain, sometimes — and the very next day, I'm faced with a metric crapload of kegs to shuffle around in the chiller when I'm wearing my worn-out leaky hiking boots (rather than my ass-kicking hefty steel-toed factory-worker boots — which are also wearing out, truth be told). It didn't get genuinely horrific, but it was conspicuously less fun than Kegtris usually is.
But — in yet another of those instances wherein the universe finds a way to reassert the relevance of a Diary entry, no matter how inexcusably belated — some of kegs in that swag were Firestone Walker's 'Double Barrel' Ale, a beer which I've liked for ages, and am dead keen to have on tap. All the Firestone beers I've had so far have been charming, in their own ways. And this thing was an absolute delight to have as a guest for a little while. As you may be able to see on the awesomely ostentatious and typically-American tap handle, it's another oatmeal stout, and I (to reiterate) bloody loves oatmeal stout, I do. This was the first to be tapped of a swag of American imports that we had stacked in the fridge, and its awesomeness and the sheer delightful silliness of that stonking-great handle proved a brilliant tease for the four more that were destined to go on together on the Fourth of July.
It was, to my no-surprise-at-all, just glorious. Positioned in a very pleasant middle-ground between the very-light likes of Little Creatures' one-off oatmeal stout and enjoyably-worrying heavyweights such as Liberty's 'Never Go Back', it's smooth and silky and decadent without feeling overly or guilt-inducingly so. Nothing leaps out of my memory (or my notes) to really distinguish it from others of its kind, other than its nicely-built goodness. But that's a fine and lovely thing, just to be doing what you do do well in an un-flashy and self-assured way. This does that.
Basically the only thing even remotely wrong with it is the name. There's nothing inherently wrong about it — slightly obscure or bizarre as it might be, it does kinda work: "velvet" is certainly a word that anyone who makes this beer should feel entirely free to use, and "Merlin" is the nickname of their Brewmaster, Matt Brynildson. The tragedy is that is was once called Velvet Merkin. And that's a whole bunch funnier. "Merkin" is seriously close to being an inherently funny word, and is well worth looking up if you're not entirely sure what it means or why it might've been the name for this thing. I have — as you might have picked from the fairly-liberal swearing or from the short-form rants on the topic — a proudly defiant anything-goes approach to the English language and just hate to see people needlessly flinch from "bad words". It's the name of a beer, for fuck's sake; you have to be legally an adult to buy it anyway, and this is such a gloriously outmoded word that it's hard to imagine anyone clever enough to know it being simultaneously wowserish enough to have it give them the vapors and make them need a lie-down. But they self-censoringly changed the name when it graduated from being a one-off project, and that's just kinda sad.
Just like oatmeal stout, swearing (and "bad language" more broadly) is one of the joys of life. Both take skill and timing, both are nourishing to body and mind, and both are capable of shocking and delighting — in turns or at once. Mister Fry is definitely with me on the swearing, and I can't help but assume he'd be partial to a bloody-marvellous oatmeal stout, too. He just seems the type, don't you think?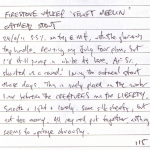 Verbatim: Firestone Walker 'Velvet Merlin' Oatmeal Stout 24/6/11 5.5% on tap @ MH, with the glorious tap handle. Revising my July Four plan, but I'll still jump in while it's here. Ari Sr. shouted us a round! Loving the oatmeal stout these days. This is nicely placed on the number line between the Creatures and the Liberty. Smooth + light + lovely. Some silk sheets, but not too many. All very well put together, nothing seems to upstage obviously.
Belatedly uploaded: 29 November 2011