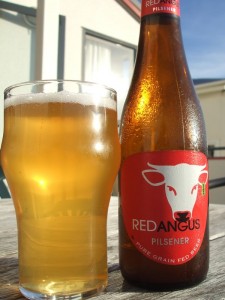 There is a particular joy in trying a beer you've never heard of before; you're totally free from expectations. But that does also often give you a moment of extra pause, in case you 'embarrassingly' wind up liking something that's not well regarded. I try to resist that, though, since I prefer to emphasise subjectivity and situation as key bits of the beer-drinking experience.
Anyhow, this stuff was rather charming on a sunny day that I'd filled up with mooching in the sun and riding my bike. It was part of a small set of beers that my friend Glenn had luggaged over (as he's done before, bless him) from Australia when he was in town for work. Despite being something of an Honorary Australian, it was totally unfamiliar to me, and I was pleasantly taken aback by first the odd name, then the somewhat-peculiar label — then the bloody-lovely hazy golden colour, after which followed an inviting-enough (fruity and slightly spicy) aroma, and finally a nicely rounded-out thirst quenching little lager. I still have no real idea how it's perceived over in the Big Country, but I think it's totally worth a go — interesting enough to stand apart, but not an excercise in foot-shooting difference for difference's sake. The label certainly over-enthuses about how unique it is, but that's a sad fact about marketing these days, more than anything else.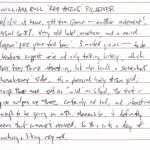 Verbatim: William Bull 'Red Angus' Pilsener 30/11/10 at home, gift from Glenn — another mulement! 345ml 4.8% Very odd label, somehow, and a weird slogan: "pure grain fed beer". 5 malted grains — taste and texture suggest we're not only talking barley. Which does keep things interesting, but also lends a somewhat 'homebrewy' side. It's a pleasant hazy straw gold; though the nose isn't as "wild" as billed, the fruit + spice nudges are there. Certainly not bad, and interesting enough to be going on with. Meanwhile, it definitely seems that summer's arrived. So this suits a day of mooching + biking very well.