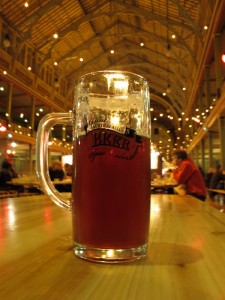 Well, there stands before you a blog-post-title-length record unlikely to be challenged for a while. I've no real idea why I ran two beers into one entry at the time, and I couldn't figure out a fair way to abbreviate any of it; these were both lovely beers, and they deserve their name in lights. I can only manage blinky little LED lights here, but it's a start.
After my near-delirium-inducing visit to Josie Bones, I walked back to the Exhibition Building for my pre-session duties and wound up meeting Jon Seltin,1 brewer of the Bright 'Harvest 150' I'd had with lunch. He was back and forth through the queue several times, trying to track down his ticket, his "GABS 2012 Brewer" hat, and to locate some friends. I nerded out about the beer I'd just had, the Fainter's Dubbel that impressed me so much when I was last in town, and the mild irony involved in being a brewery called "Bright" that only sells unfiltered beer.2 He proved to be a thoroughly lovely chap indeed — and sports a magnificent beard, which always earns bonus points with me — and so there was no other plausible candidate for my late-session beer than his 'Resistance Red Ale'.
And, even with geeky circumstantial motivations aside, it was a genuinely excellent thing. On the colour spectrum, it occupied proper red — a richly alluring siren-ish red-red still uncommon among "red ales" — and so it continued on the nose, in that marvellously synaesthesia-esque way that was so much fun when you first met 8 Wired's 'Tall Poppy'. It's a big, jovial bastard, crammed with summery berryfruit flavours but blessed with the unstodgy agility of something considerably lighter.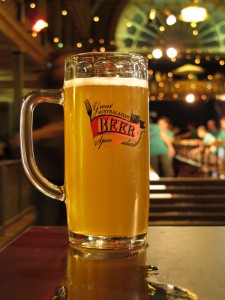 Then: more beer! As I noted in passing while talking about my GABS Paddle #1, it was genuinely heartening to see beers from the Sour & Funky corner of the pantheon generating the kind of talk that the Truly Hoptastic had monopolised for a few years. I took it as a good sign of health and diversity in the scene and opted for a glass of this (he says, gesturing invisibly at the other photo) in equal parts celebration and nostalgia — the latter because it hails from my one-time local, the Wig & Pen in Canberra.3
Canberra, to side-track a moment, is a weird town. It's tiny, relative to the nation of which it is the official capital, it's one of those weirdly-contrived artificial cities, and the man who designed much of it seems to've lived in one of the shallower ends of the sanity bell-curve. I was at the Australian National University for a while, studying Philosophy with all sorts of marvellous people,4 and living on a decent scholarship right on campus near the center of town. The City was designed for a million residents, but still (after a century) only has a third that many, and the CBD gets particularly empty on the weekend — perhaps because such a chunk of the populace is comprised of sensible public-sector family-types hiding in the sparse suburbia. Couple that with the distance from the coast and the elevation above sea level causing temperatures to swing from 40° summer days to -4° winter chills and it frequently feels like you're living in some recently-abandoned colony on the fucking moon.
But there was the blessed Wig & Pen — mere minutes from my bedroom — to save the day many, many times, and to help give me an appreciation for real beer. I loved the Wig, was utterly delighted to see them win Best Small Brewery at the AIBA, and am now feeling massively nostalgic for Canberra — of all places — partially just because I really want to visit that pub again. It's a cute and cozy little place, with a non-obnoxiously contrived British Boozer kind of feel which, if anything, just makes perfect sense in an artificial city. They do a wide range of beers, all brewed on-site in a seemingly-poky little corner, which don't bother adhering to any mindlessly-English-traditionalism the look of the place might suggest. It's their brewer, Richard Watkins, who built most of the Hopinators in Australasian beer bars, after all. There was a story about it being up for sale last year, with the owner expressing a desire to retire, but I'm honestly not sure what came of that and I hope that if it does sell, someone just keeps it running as is and keeps Richard there making his lovely beers. (May we should chip in and buy it for him…)
Anyway, this thing — this bright golden, face-puckering, deliciously cleansing little thing. It's just what I needed to end the day, despite being basically the opposite of what I usually think of when I think "nightcap". My weekend's days were long, and I was fading steadily, but this little bugger perked me right up. I grew up with a crapabble5 crabapple tree in the front yard and developed a fondness for that perky-but-easy kind of sourness, and T.B.N.R.C.6 had a nose on it that made me think of those, if they hadn't been red but rather green and Granny-Smith-ish. The body rounded out a little from the nose, and the result was just bloody good fun, pleasantly challenging but ultimately rather deliciously quaffable. Getting cheerfully tipsy on it some bakingly-hot Canberra summer afternoon would sure leave an impressively-puckered bliss-grin on your face.
Good people drink good beer, as Uncle Hunter reminds us. Jon and Richard are (further) proof that lovely people brew damn fine beer, too. Cheers to them both.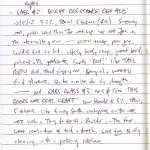 Original Diary entry: GABS Glass #2: Bright 'Resistance Red Ale' 12/5/12 7.2%, 380ml, 5 tokens ($10). Sirenny red, paler head than the wet-hop. We met Jon in the interminable queue — several times, poor guy. Couldn't find his hat. Utterly lovely chap, great beard, patient with geekouts. Smells "Red!" like Tall Poppy did, that first time. Berryish + summery fruit flavours. Quite nimble for its strength. — and GABS Glass #3: Wig & Pen 'This Beer's Not Read Craft' sour blonde @ 5%, 380ml, 5 tokens. Like Granny Smith crabapples on the nose, were such a thing to exist. Rounder in the face. Great combination of tart + fresh. Good fun. Nicely cleansing, with a puckering sideline.
---
1: If you head to Bright Brewery's website around-about the time I post this, there should still be a superbly-disturbing-and-brilliant American-Beauty-esque poster for Harvest 150, featuring Jon.
2: "Bright beer", by the way, is what you call it when the yeast is no longer in suspension, whether you just let it drop slowly (maybe with some finings to help) or filter it out. The brewery, in fact, is named after the small Victorian town in which it operates. I was, as will surprise few of my friends, unable to resist the geeky pun of it all, however.
3: Their website was, for the longest time, a glorious relic of mid-nineties Microsoft FrontPage-era delights. But I've just looked again, and it pretty-much looks like they've been taken over by a particularly-resourceful domain name squatter, which is both weirder and sadder.
4: And, for a good chunk of my time, in a fucking marvellously whacked-out building. The Coombs Building, home of the Research School of Social Sciences, is a triple-interlocked-honeycomb oddity with differing floor levels from octagon to octagon. It was an easy beast to get lost in, and made for brilliantly-productive philosophy-contemplating-wanderings if I needed to hide from the heat.
5: Oops. Thanks to Stu for catching that delightful typo. "Crapapple" is one of my idiosyncratic expletives, and I swear a lot more often than I reminisce about my childhood — "crapabble" is apparently what happens when I attempt to transition from doing the former to doing the latter while typing at a fairly decent rate.
6: I'm still not sure quite why the name, other than the pure cheerfully counter-trend nature of a weird little sour coming after those years of the hop-fashion. The notes in the official GABS booklet weren't much help on that score, but do note the awesome titbit that the beer is a blend of 18-month, 18-week and 18-day old batches.