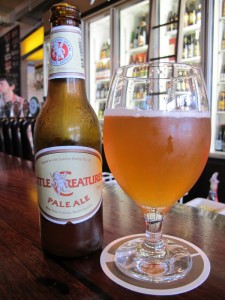 Ordinarily, I have a fairly 'involved' Australia Day. Especially given that I'm not, you know, Australian. But it's basically my favourite National Holiday, and I do wish our own Waitangi Day were more like it — something I've tried to implement, occasionally, with moderate success (if I do say so).
My first Australia Day was in 2001, when I was a summer scholarship student at the ANU in Canberra. And it was freaking awesome. Blisteringly hot weather (which I'd usually vote against), the Triple J 'Hottest 100' on the radio from 10am onwards, wading pools to sit in, barbequed food aplenty — and, on that initial occasion, a case of Coopers Sparkling Ale. Now, I usually take the day off, buy some good Australian beer, and mooch around somewhere sunny (but with shade nearby), listening to the 'radio' over the internet. Owing to an overload of Extraneous Stuff this year, my plans were somewhat mucked-about, but I still made sure to get myself well-stocked with lovely Big Country beer — and was moved to note it in the Diary at least, if I couldn't have myself a proper Day.
I've said it many times before, but I really do love Little Creatures Pale. Coopers Sparkling was my first good Australian beer, but Creatures Pale has become probably my favourite, full stop. "Favourite" is always a tricky title to hand out, especially when you're a Big Nerd. But when you are the Big Nerd at a Big Beer Bar, people do ask. Often, and pressingly. And I think that if push came to absolute shove, Creatures Pale would be it. It's just so reliably lovely, nicely middling between 'flavourful' and 'mellow', and it also — keeping the situatedness of beer firmly in mind, as I always insist — just has, for me, so many brilliant memories densely packed into the brainspace around it.
The actual photos on this post are from about a month later, when I'd finally gone and splashed out on a new camera. I'm enough of a weirdo about these things that I did pretty much insist to myself that the new gadget's first beer photo be the beloved Creatures. You have to get these things off to good starts, you do. It's a lovely piece of kit, and still enjoyably baffling as I get to know the nearly-innumerable bells and whistles.
There is some bloody marvellous beer-related photography going on at the moment, and if you're not already acquainted with the work of Aaron Caruana, Jed Soane, and Robert & Kim from 'Beer Lens' (just to pick my three most-frequented favourites, which helpfully also manage to hit the Big Country, Little Country, UK and US buttons between them), you damn well should be. I know that good gear isn't even half of what makes for good photos, but those are the sorts of people who make me want to lift my game.
I've always loved the plea to use a glass for your Creatures, too, so was instantly presented with an excellent opportunity to take the macro settings for a spin, as well. I really like the result, with its awesomely-blurred Background Peter looking on. And seriously, folks, if a beer is worth drinking at all, then it's worth drinking from a glass. That's the rule.
Verbatim: Little Creatures Pale Ale 26/1/11 $20/6pk @ GG 330ml 5.2% Happy Australia Day! Though this is basically my tamest, since my first. Too much extraneous stuff, this year. But this stuff is just mandatory. And there'll be a Cooper's Sparkling, later. It's just bloody lovely. That's the word. This is always my arm-twisted citation for all-round favourite, when people ask here at work.