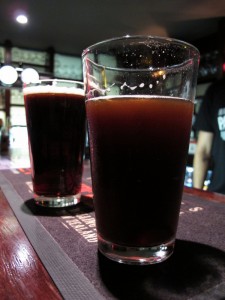 Last week was massively distracted, in my brain and many others, by the run-up to GABS and Good Beer Week in Melbourne — but it (i.e., the week) still found time for the (North Island) launch of a new contract brewer in the local scene, Resolute Brewing. Well, for a given value of "new", at least, since it's the work of Nathan Crabbe, formerly part of contract-brewing operation Golden Ticket. He'd departed that gig for a job brewing at Harringtons but evidently had a relapse of the do-your-own-thing itch and is back in the game as Resolute.1
He pitched his Beer #1 as a 'Molé Stout', inspired by — and brewed with many/most of the same ingredients as — a traditional Mexican mole poblano sauce, namely chocolate, chili and (very many) various spices. Which immediately puts me in mind of last year's beloved 'Day of the Dead' from Garage Project,2 but they're very different beers, despite their rather-similar initial impressions. Surprisingly light (in both colour and alcoholic weight — the latter not quite as intended, I was told), Zaragoza was definitely promising and well put-together, especially considering its two-dozen-odd ingredients — they weren't fighting like angry cats in a bag, though they weren't making much noise of whatever attention-grabbing kind, come to that. Subtlety is no bad thing at all, but it was a little unexpected in this case. To me, it massively suited warming up rather a lot and developed into something like the (friendly) ghostly apparition of an astonishingly decadent chocolate brownie — all the flavour, none of the stodge. If anything, it could use more meat on its bones, but it wasn't worryingly thin.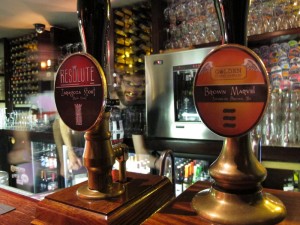 Golden Ticket, meanwhile, has continued in the hands of Nathan's former business partner Ally McGilvray and has been making some lovely beers — like 'Black Emperor' (a "black pilsner") and 'Champion Malky' (a characterful golden ale) — one of which was on handpull right beside this one, fittingly enough. I'd had two pints of Zaragoza and realised I had time for another half of something before I had to head off, and was unable to resist the fittingness of the two beers side by side and one after another. I also got that photo of the badges together — Hashigo's difficult lighting mandated using my camera's HDR trickery and the multiple exposures made Dylan's photobomb ghostly and spectacular. 'Brown Marvel' is a charmingly quaffable take on an American Brown, a nicely balanced mix of a little malty roast and a little fruit hop. And as if to underscore the surprising lightness of Zaragoza, this "brown" seemed a shade or two darker in the glass than the stout which came before it.
Original Diary entry: Resolute 'Zaragoza' Stout 8/5/12 @ HZ for BGC,3 its North Island launch. R is Nathan, formerly of Golden Ticket, then Harringtons, then on his own again. Brewed at the resurrected Twisted Hop, which is neat. I'm not enough of a foodie to know much about Molé, but chili-choc is the general idea. Only 4.5% (intended to be %5-ish), and very-brown, not black. Surprising lightness of body isn't bad, but I was keen for some stodge. Tastes very brownie, but with utterly un-brownie texture. Hints of vanilla emerge (whether from actual vanilla or not). Chili isn't of the hot kind at all. This isn't a patch on DOTD, but it's equally not at all bad and a promising start. — Then, appropriately, Golden Ticket 'Brown Marvel' (5.5%, $8, 380ml) Which is, oddly, darker. Pleasantly easy-going. Suits handpull. A little roast, and a little fruity hop.
---
1: There's no real suggestion of a falling-out, or at least none that I've picked up on. It just seems to be the case — and fair enough — that since Golden Ticket had, by now, put out more beers without Nathan that it had done with him it's become Ally's thing.
2: My favourite beer of 2011, a black lager with cocoa, chili and agave syrup — which was also launched with appropriate timing, having its debut on the actual Dia De Los Muertos, November 1. 'Zaragoza', equally fittingly, made its first-first appearance on Cinco de Mayo.
3: I habitually refer to Hashigo's 'New Release Tuesday' as "#BeerGeekChurch". They became 'a thing' with the Garage Project's 24/24 phase, and have continued since. There is always a decent crowd of lovely beer nerds to hang out with; it's a brilliant part of the week.