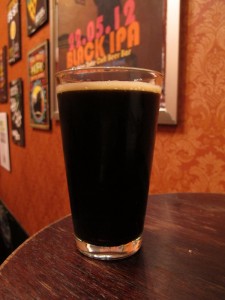 Tuesday, for the vast majority of four long years at the Malthouse, was my standing night off. Which is the kind of predictable-planning luxury that, in the bartending business, is quite a rarity indeed. They were originally granted so that I could go to pub trivia and eventually grew to include a fortnightly and shamelessly-nerdy Dungeons & Dragons night. And somewhere along then way, back when ParrotDog and Garage Project had their Official Launch Shindigs (and the latter went on to make recurring appearances with their 24/24 phase), Tuesday at Hashigo turned into Beer Geek Church.
They've kept something going each week for nearly a year now, and there's always a good crowd of friendly beer nerds in attendance. And — just occasionally — there's a colossal heaving throng of people, both nerdy and newb, crammed into every inch of available space, beery cheek by beardy jowl. The launch night of Funk Estate was definitively one of those, in the tradition of the aforementioned P.D. and G.P. premieres before it. Like those, this was the début of a new locally-based brewing operation,1 with the added magnetic effects of their main brewing-brain being a Hashigo bartender and a first-keg-goes-out-free launch policy, which shouldn't ever be underestimated as a method for causing H. sapiens to congregate in dense numbers.
They've already got other brews fermenting / conditioning away, but this first release was an as-yet-unnamed Black IPA,2 picking up on a relatively-recent trend in craft brewing that's only had a few touchdowns in New Zealand so far — notably in Yeastie Boys breakout single3 'Pot Kettle Black' and Croucher's 'Patriot'. I've struggled (in a curious and nerdy way rather than one that caused any real stress) with this whole "Black IPA" lark, and whether it's really a thing or if there's any real reason not to just say hoppy porter, forgoing making up a new Capitalised Style Term in favour of just using an adjective. If anything, Funk's beer was instructive — in that I think it's the latter.
Maybe I'm being pedantic — that does sound like something I'd be — but I'd say that a Modified IPA needs some kind of aggressive / assertive hop presence, be it up the nose or on the palate (or, of course, both). There are mild IPAs, to be sure, but those aren't the ones you'd be talking about were you to pick up the term and transplant it onto a hybrid style. You'd be better off referencing the classic, the archetype, the ur-IPA, when you plonk those three letters somewhere new. Shaun of the Dead deservedly labelled itself a "RomZomCom" because it had genuine romance, full-on zombies, and proper comedy — not vague flirtation, unspecified undead things somewhere in the background, and occasional subtle wordplay. Similarly, Braid is a 'puzzle/platformer' because it really is absolutely and full-throatedly both, at the same rewardingly mind-bending, joy-migraine-inducing time.4 So no matter how perfectly-hilarious the hero's one-liner when he dispatches the villain, the movie's not automatically transformed — by that alone — into an "Action Comedy"; likewise, no matter how deft your hop addition, your black beer doesn't necessarily slot into the weirdly-shaped and still-forming "Black IPA" box.
If this wasn't black, nothing about this would make you instantly reach for the IPA label, but there's room for a hoppy-and-black thing to not be a "Black IPA", and still be worthy and wonderful. And this was their first release, perhaps it fell short of the bitterness and punch they intended and maybe it'll change — but ultimately I genuinely don't care much for labels and taxonomy (as much as they'll very-happily distract me a while). This was delicious; rich and sumptuous with metric oodles of chocolatey malt layered with fruity and gorgeous hop flavours. Launch night was a cracking success and I've had several tremendously-enjoyable pints around town since, often happily one after another. Shiggy (the aforementioned main brewing-brain) is a passionate and talented homebrewer and is sure to come up with some gems. The local market is increasing in population at a formidable rate, but it still doesn't feel crowded or even very "herd-ish" at all; everyone's doing their own thing, and there's still plenty of room — though I am starting to wonder how soon I'll need a third notebook.
Original Diary entry: Funk Estate Launch / Black IPA 22/5/12 @ a jam-packed Hashigo. Although I'm writing this much later, such was the jam-packed-ness. Parrot / Garage syndrome, plus buildup + bartender + free beer factors = people all up the stairs. The debut beer is a Black IPA, sufficiently far from the big boom that it doesn't just seem an act of fashion. Here with Pete + Tim + George, crammed by the wall with no room for notes. The beer is delicious, rich + black with lovely fruity hop notes. But, if anything, not BIPA. Which is weirdly presumptive, for a non-thing, but maybe this is instructively "hoppy porter". If it were non-black, it'd be closer to ESB — no hop punch or brutality. IPA — to me — need[s] some, whether up the nose or on the tongue. And this is heaps less roasty than PKB (confirmed in-between the tasting-and-writing, for this). But who gives a fuck about style? Not me, other than for positioning. It's lovely, several-pints-able, and everyone's having a grand old time.
---
1: Contract brewing, for now, at Aotearoa Brewery (home of the Mata beers)a and with what looks like a few side-batches on the go on the little (i.e., 200L) kit at Massey University. In the local scene at the moment, the "for now" in the previous sentence is pretty-much mandatory, given how frighteningly / surprisingly / inspiringly fast ParrotDog have made the jump to a concrete-and-steelb brewery of their own. Denise Garland, having returned to blogging a little while ago, wrote a great little backgrounder on Funk Estate and also filed a report from Launch Night.
— a: Weirdly, I've never enjoyed a Mata beer, though I've now enjoyed plural beers to be contract-brewed on their kit. Their own range, in my experience, has always fallen foul of naffness or faultiness. Or, unforgiveably, both. And I know I'm always quick to whine about marketing, but theirs also has an off-puttingly clunky, fudge-and-booties at the market kind of air about it, somehow — with a genuinely awkward sideline of gender politics: a giant banner on their website currently blares "Truth Be Told / Mata Ales & Lager / Passionately Brewed & Handcrafted / By A Woman", in an apparent collision between buzzword-marketing and some kind of broken haiku.
— b: I've learned, with my recent high doses of in-brewery time, that the traditional English idiom "bricks and mortar" (to denote a proper physical thing in business terms) is massively outmoded.
2: 'Blaxploitation' was floated as a suggestion by several people — including myself, I believe — which does seem to fit the branding and the beer, although I can't help but wonder whether four boys of European and Asian descent will ever run into strife with that aesthetic.
3: Given the multitude of musical references in Yeastie Boys beer names, it's hard not to make an analogy in kind; and it really does fit nicely with their yearly 'remixes' and re-imaginings. It wasn't their first release, but you could think of it as the first recorded single of a buddingly-famous live-jam band (since it was the first of their range to be regularly bottled), and it was certainly the first to emerge into very-many peoples' attention with its stunning success at Beervana, like Elbow's 'Seldom Seen Kid'c winning the Mercury Prize in 2008 after they'd been making albums for years.
— c: Which, probably-not-coincidentally, I'm listening to right now. I should see if I have any funk.
4: I'm probably safe in assuming most of you have seen Shaun. To those likely-very-many of you who've never played Braid: seriously, try it. It's a stunning piece of work, and will ruin your brain in tremendously enjoyable ways — imagine if Darren Aronofsky had made Super Mario Bros..