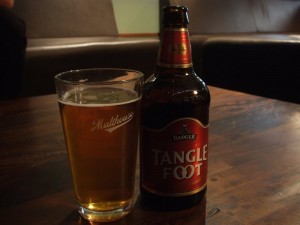 This is a beer I've had on many occasions, and have a real fondness for. Its first Diary entry occurs here in April 2005 (also the first English listing) but even that mentions that it's been enjoyed before. And the photo here comes from years after that, when I randomly spotted it in the fridge at the Malthouse. Saw it in a photo I'd taken the night before, in fact, and went straight back to have some.
I'd only just recently (at last!) gotten myself a nice digital camera (or a camera at all, if it comes to that), so the new-gadget enthusiasm coupled with the beer nostalgia made taking a photo irresistible, despite the funny looks that doing so drew. I liked how it turned out, and a habit was fairly instantly formed.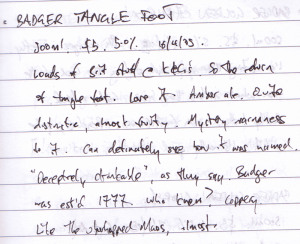 Verbatim: Badger Tangle Foot. 500ml, $5, 5.0%, 16/4/05. Loads of Brit stuff @ K&G's. So the return of tangle foot. Love it. Amber ale. Quite distinctive, almost fruity. Mystery warmness to it. Can definately see how it was named. "Deceptively drinkable", as they say. Badger was est'd 1777. Who knew? Coppery. Like the überhopped Macs, almost.
Afterthoughts, October 2010: The "überhopped Macs" I mention was their 'Copperhop', a now-retired IPA that I remember as being quite decent. A quick look at the reviews finds a decent amount of praise for its balance; malt and hops in harmonious presence. That could be what I'm on about, in my comparison.