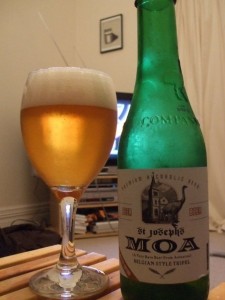 Moa brewery in Blenheim is the work of Josh Scott, son of winemaker Allan Scott. And it really does have a significant "wanky side-project of spoilt rich kid" air about the whole thing. The beers are particularly expensive, nobbishly marketed — and unforgivably naff all too often. I suppose when you're charging an arse and a head for your beer, you have to make sure it's mild enough that people won't hate it. Really, it's a clever corner of the market to go for, too; wealthier people with pretensions of boutique beer-ery, but who are still Heineken drinkers at heart.
All that said, 'Saint Jo.' is pretty much the exception to the rule. It's a nice little Tripel, and is very-definitely the pick of the bunch.
Afterthoughts, February 2011: Heh, there's your 'balance'. "Ranty-ranty-rant — but this is okay." But it's sincerely meant, still, even after Moa have expanded their range with a few more properly-worthy offerings like some genuinely-interesting barrel-aged beers. Aspects of the marketing are massively annoying; I've been considering using their stuff for a whole post of Please Don't Do This points about beer branding. And the 'First Three' (the 'Original' lager, the 'Blanc' wheat, and the 'Noir') are terribly bland for their price — and what isn't 'bland' about them is a worryingly-distinct Moa Funk that it takes their heavier beers to cover up / avoid / compensate-for.
Though there are some exceptions, the Moa Beers are — in general, and so far — a depressing triumph of brandwank over substance.