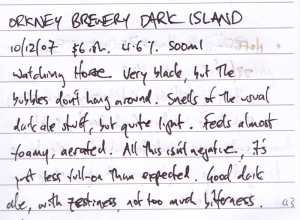 Verbatim: Orkney Brewery Dark Island. 10/12/07, $6ish, 4.6%, 500ml. Watching House. Very black, but the bubbles don't hang around. Smells of the usual dark ale stuff, but quite light. Feels almost foamy, aerated. All this isn't negative, it's just less full-on than expected. Good dark ale, with zestiness and not too much bitterness.
Afterthoughts, October 2010: RateBeer.com has it as an 'old ale', and BeerAdvocate.com has it as a 'scotch ale'. You can see how these things get tricky. I had it pegged, in my relative ignorance as porter-ish, but hey. I really should get to Orkney one day; I've had a few good beers from there, and it's home to my beloved Highland Park whisky.
And, damn, that's a scanner-friendly pen, isn't it?