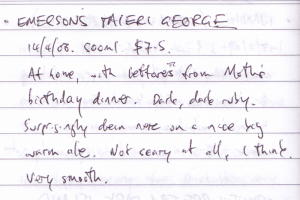 Verbatim: Emerson's Taieri George. 14/4/08, 500ml, $7.5. At home, with leftovers from Moth's birthday dinner. Dark, dark ruby. Surprisingly clean nose on a nice big warm ale. Not scary at all, I think. Very smooth.
Afterthoughts, October 2010: "Moth", by the way, means "my mother"; we're an odd family for nicknames. And many other reasons. (My father is usually referred to as "Grim".)
And there was another four Mysteriously Blank Months, just there.