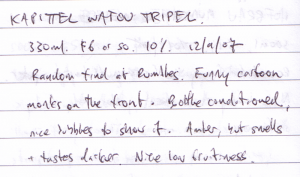 Verbatim: Kapittel Watou Tripel. 330ml, $6 or so, 10%, 12/9/07. Random find at Rumbles. Funny cartoon monks on the front. Bottle conditioned, nice bubbles to show it. Amber, but smells and tastes darker. Nice low fruitiness.
Afterthoughts, October 2010: Correctly listing / categorising these things sometimes gets quite tricky, when you aren't able to read the language — and when the marketing gets slippery. This one's apparently branded an 'Abt', and a 'Tripel', and a 'Quadrupel', depending on who you ask.
And in terms of Diary timing, there's another four months just plain missing. Weird.