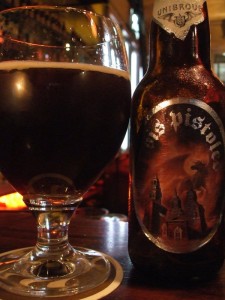 I get mistaken for Canadian, sometimes (I have very idiosyncratic accent — and no idea why I do). I have Canadian relatives, I've been to Canada (though I was not of beer-buying age), one of my favourite bands (The Tragically Hip) is Canadian, as are some of my most-beloved TV shows (Wonderfalls, Due South). So, how the hell did I get to Diary II without any Canadian beer, so far? And how the hell did I get this far without this legendary Canadian beer,1 in particular?
I don't really have an excuse. But here I am, solving both problems at one delicious time. Because this beer is very much not one of those times where you finally try something much-hyped and are left with a confused look on your face, wondering what everyone elses' fuss was all about. This deserves the not-insignificant fuss it generates.
It's a dark, broody looking brown with purply highlights that show up against the light or during a swirl — and which suspiciously-well match the Apocalpytic-looking painting on the bottle. Compared to its big, chewy, Belgian-esque brothers, this one has a fresh, 'uppy' and particularly plummy fruitiness that brings a whole smackload of deliciously tart flavour into your face — like a crabapple straight off the tree. I do love the more-typical sticky fruity Belgians like Kwak, but this is just utterly fantastic as itself, and as a comparison.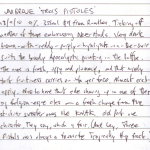 Verbatim: Unibroue 'Trois Pistoles' 18/9/10 9% 355ml $9 from Rumbles. Ticking off another of those embarrassing Never Hads. Very dark brown-with-reddy-purply-highlights-on-the-swirl. Suits the broody Apocalyptic painting on the bottle. The nose is fresh, uppy and plummy, and that nicely tart fruitiness carries on into yer face. Almost crab-apply. Nice to have that side showing up in one of these big Belgian-esque ales — a fresh change from the stickier sweeter ones like Kwak. Old Port wine character, they say, which is fair. (And hey, Three Pistols was always a favourite Tragically Hip track.)
---
1: The aforementioned favourite band, The Tragically Hip, even did a song (on their 1991 album, Road Apples) called 'Three Pistols'. I can only assume it's not directly related — it's likely that both are named after the Quebec town. I'm a big enough nerd that I made sure I listened to it while drinking the beer — and while writing up this entry, weeks later. These things have to be done, really.