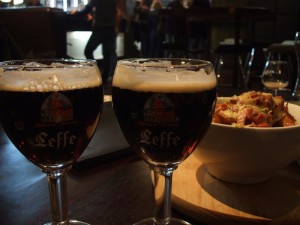 Verbatim: A pair of Leffe Brune. Not both for me, honestly. Though I have always usually been more a fan of the Brune than the Blonde. So to speak.
Afterthoughts, October 2010: Like a lot of these at-Malthouse but-not-working-at-Malthouse entries, I was there with some of the people I worked with at the time, at a pretty-awful bar down the other end of town which is probably best left anonymous. For my sake. They did have a decent whisky selection, though. I got to basically be the curator of that, which certainly helped my Nerdery — my CV at the time covered both the beer and whisky bases by invoking the term "Malt Nerd".
The wedges were awesome. A pain to make, apparently, but awesome. It is kind of a shame we don't do them anymore.