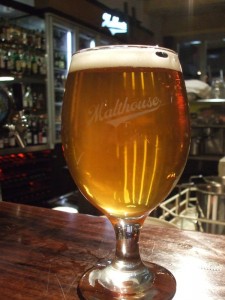 Verbatim: Tuatara 'Ardennes'. A belgian-style strong golden ale from local favourites Tuatara. Just recently back on tap at work, and thereby eligible for staff drinks. Huzzah. One of our regulars (a formidable Beer Nerd) rates it as the #2 All-Around Best Value Beer Buy on the Planet, which isn't a bad nod. It's a lovely bright gold, slightly heftier than usual (at 6.5%, so not as full-on as the Belgian-Belgians often get), and with a nice smooth, slightly warming, peachy kind of yumminess to it.
Afterthoughts, November 2010: #1 on the Best Buy list mentioned above was Schneider Aventinus, if memory serves. But it often doesn't, so don't quote me on that.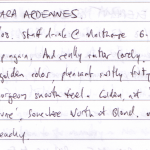 It also occurs to me that I'm posting this, and writing these Afterthoughts, almost exactly two years since I took that photo. Two more years of backlog before I catch up with the steadily-marching-on 'present'. Sheesh.
And then — mysteriously, a few weeks later — an actual Diary entry for this same beer pops up. But I didn't take a photo at the time, so I've put the entry here, in the spirit of consolidation.