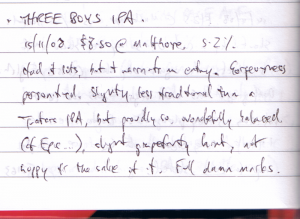 Verbatim: Three Boys IPA. 15/11/08 $8.50 @ Malthouse, 5.2% Had it lots, but it warrants an entry. Gorgeousness personified. Slightly less traditional than a Tuatara IPA, but proudly so. Wonderfully balanced (cf Epic…), slight grapefruity hint, not hoppy for the sake of it. Full damn marks.
Afterthoughts, November 2010: I'd probably run my little camera out of battery — the 15th does have both the Tuatara 'Ardennes' and the Pink Elephant 'Golden Tusk' noted down already. It does take a beating, that thing; probably 90% of its work is done under appallingly low light conditions. It'd be pretty tiring.
And here's the first mention, I think, of the anti-Epic strain that definitely runs as an undercurrent through my early days at the Malthouse. For the record, though we'll get into more detail later, I think their beers have vastly improved — but there was a whole bunch of Emperor's New Clothesy carry-on around when I first encountered them.