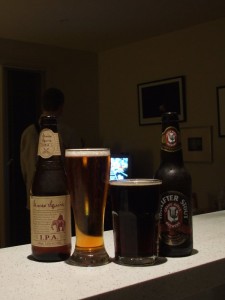 In this, the first double-whammy entry, mine is the IPA. It's a tasty, mild brew which is still very-definitely an IPA. It's gently hoppy (Fuggly, to be specific) and nicely malty, and is a perfect Gateway Beer to introduce people to pale ales.
I do like the Squires beers. On my way over to the Big Country for this trip, I asked the flight attendant what they had by way of beer, and her answers were Something Horrid; Something Awful; Something Forgettable; and James Squires Golden Ale. No contest, obviously.
The beers from the the Malt Shovel Brewery, as they're officially called, are really useful. They're like Mac's or Monteith's were here before being bought out by the Bigger Boys. Some beer nerds look down their noses at Mac's and Monteith's, but we're a zillion times better off for having them as the nearly-ubiquitous beers-on-tap than we were when it was DB versus Lion brands, with smatterings of the provincial "Draughts". They are Gateway Beers; milder versions of the various different styles that give people a low-risk way to Try Something New. My suspicion is that the (inevitably, but lamentably) stronger regionalism in Australia will get in the way of something similar happening over there. But if anyone manages it, it should damn well be Squires.
Toby's beer — that's him not doing very well at Guitar Hero in the background — is Grand Ridge 'Hatlifter' Stout. Another from Mirboo North, this one was definitely my favourite when we visited a few years prior, and was still freaking gorgeous. Unfeasibly smooth and easy to drink, and so a perfect Introductory Stout to anyone silly enough to resist such an idea.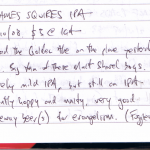 Verbatim: James Squires IPA. 3/10/08 $3 @ IGA. Had the Golden Ale on the plane yesterday, too. Big fan of these Malt Shovel boys. Lovely mild IPA, but still an IPA. Gently hoppy and malty, very good gateway beer(s) for evangelism. (Fuggled.)
Afterthoughts, October 2010: A fairly ruthless Editorial Policy is in effect, it seems. 'Hatlifter' is denied an entry, despite not already having gotten one at the brewery itself, just because it's Toby's beer, rather than mine. And it's possibly not very fair to say he wasn't doing very well at Guitar Hero; really, he just wasn't doing well compared to me — few people do. I'm a severally-faceted Nerd.