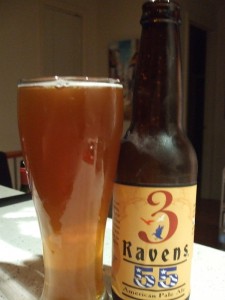 3 Ravens 55 American Pale Ale. "55" because of five hops and five grains, apparently — and first made for the occasion of their fifth birthday as a brewery. It's made from barley, corn, wheat, oats and rye — which makes me want to say that it feels more "American" at the expense of being less "American Pale Ale". The grains do make for a really nice mix and a good full body, but they're driving very much more than the lively American hops you'd usually expect. Possibly another case of peculiar branding of a beer that's doing what it is doing very nicely, whatever it's called.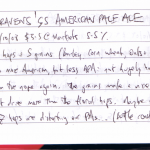 Verbatim: 3 Ravens '55 American Pale Ale. 7/10/08 $3.5 @ Markets 5.5%. 5 hops + 5 grains (Barley, Corn, Wheat, Oats + Rye), so more American, but less APA: not hugely hoppy in the nose again. The grains make a nice mix, but drive more than the floral hops. Maybe our NZ hops are distorting our PAs. (Bottle cond.)
Afterthoughts, November 2010: This borderline-numerology stuff does crop a bit in brewing circles, actually. It seems a common trope to jig the number of ingredients, or the ABV, or IBU, or something to match some relevant number. I suppose that just shows you that obsessiveness and nerdery are common traits among craft brewers. And that's got to be a good thing.
Meanwhile, that's a terribly-focussed photo. The two strong beers previous must've blunted either my ability or my perfectionism, or both.