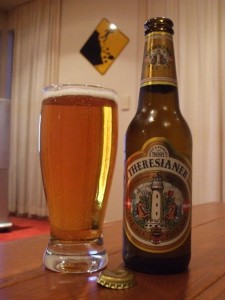 Another Italian beer, and one I'd had before, with an altogether brilliant dinner at La Casa here in town, a while back. It's an appealing bright orangey colour, and definitely has appropriately citrussy twangs in the nose and the taste. It's a bit boozy, at 6.3%, and has a slightly metallic zing to it which just comes across as refreshing, not irritating.
Afterthoughts, February 2011: Metal is such a weird flavour to pick up, but it is pretty distinctive. Usually, it's bad, bad news — my usual citation is Beck's, which (when had on tap in Melbourne occasionally) just tasted, to me, like biting down hard on a wet stainless steel butterknife. But here's me singling it out as a "not in a bad way" thing. Which does weird me out, in hindsight.
This beer in particular probably did get a lot of Circumstantial Points, given the awesomeness of the dinner it originally accompanied. But beer is like that, and there's no reason it shouldn't be.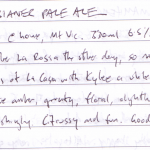 Verbatim: Theresianer Pale Ale 24/3/09 @ home, Mt Vic. 330ml 6.5% Had another La Rossa the other day, so more Italian. I had this at La Casa with Kylee a while back, too. Nice amber, grunty, floral, slightly metallic, but refreshingly. Citrussy and fun. Good stuff.