I've gone back to this one a few times, and it's still an enduring favourite.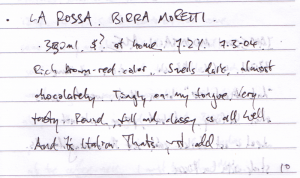 Verbatim: La Rossa. Birra Moretti. 330ml, $?, at home, 7.2% 7/3/04. Rich brown-red color. Smells dark, almost chocolately. Tingly on my tongue. Very tasty. Round, full and classy as all hell. And it's Italian. That's just odd.
Afterthoughts, October 2010: Not sure why I had the beer and brewery names backwards; maybe the effects of it being the strongest beer in the book so far took a hold unexpectedly early. I was certainly massively impressed by this at the time, and have been pretty chuffed with it the few times I've had it since.