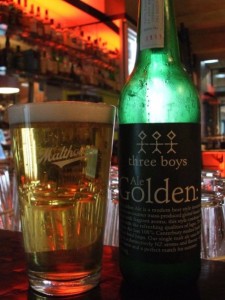 This made for a nice finish to a civilised and therapeutic afternoon / evening of good beers and good books, and is still my front-runner for Beer of the Summer '08/'09.
Afterthoughts, February 2011: I really do love this beer to bits. It's in the Diaries a few times, and the arrival of several kegs of it at work this weekend considerably helped my Calm in the face of the impending nonsense of the Rugby Sevens. Though it's easily the daftest few days of the year here in the City, if you ask me, we somehow dodged a bullet this time round and had a surprisingly manageable few days. Only one person was ejected from the bar all weekend, which is astonishing for a bog-standard Friday or Saturday, nevermind ones as busy as these were — it was our busiest weekend ever on Courtenay Place — with their oodles of costumed weirdos flooding into town.
Myself, I'm putting it down to the civilising power of all that Three Boys Golden Ale we had stacked up out the back. This could quickly turn me into a superstitious oddball, but I can't think of anything I'd rather have as my own peculiar rabbit's foot.