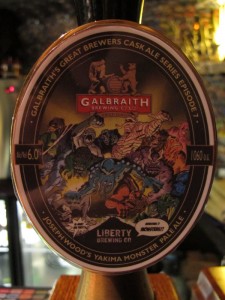 That right there is a real contender to win the Outstanding Achievement of Awesomeness in Tap Badge Design award.1 It's fair to say the craft beer scene in our little nation punches well above its weight, but it's worth also pausing to celebrate the easily-arguable notion we're also rather spoiled in the design department.2 Beer's a weird thing, art-assets-wise; it's some peculiar mix of the bland, the offensively naff, the apparently-homemade, the fine-but-boring, the showy and overblown — with, at the top end, plenty of cleverly-done and extremely effective designs and occasional moments of pure freakin' genius.3 Liberty's main run is definitely of the clever-and-effective sort, and this comes from that final bracket of brilliance.
I'm a comic-book nerd from way back, and I just love how this takes the larger format of a pumpclip (compared to a tap badge) and crams the space full of a shambling horde of wonderfully classic-looking hideous beasts, who are familiar and yet not just copyright-infringingly lifted from somewhere else. If you were so inclined, you could stretch that into a nice metaphor for the beer itself, since — in this incarnation as the most-recent installment of Galbraith's utterly-genius cask ale series — it's assuringly recognisable and excitingly different at the same time. And you can enjoy that interplay from either direction, depending on whether your default position is closer to the world of handpulled pints in a nice quiet pub (making this nicely supercharged) or bigger and brasher U.S.-style hoppy pale ale (in which case, the low-carbonation delivery makes this one quite charmingly sedate).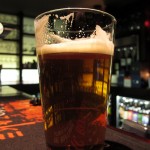 The beer's big, but it's definitely a friendly giant — just like the brewer, if you were keen to needlessly pile on metaphors purely because they work. The booze is high — relative, particularly, to things usually served off the pump — and the hops are plentiful, but the way they're put together makes the whole thing lush, fat and delicious. The fullness of it and the fruitiness of the flavours made me think of pineapple barley sugars — if such things exist; are the yellow ones intended to be pineapple? I can never quite tell — and it made for an incredibly satisfying pint on a lovely night at the pub. "Queen's Birthday weekend"4 makes for a predictably-quieter-than-usual Friday evening in town and that, to me, is a marvellous thing. There was a veritable boatload of Liberty on tap in addition to this thing — which also existed in a cask-conditioned gravity-pour version, perched on the bartop.
I don't have the kind of hyper-palate that found the cask and handpump versions massively different. That said, I only had a little sample of the former, which proved queue-inspiringly popular when it was tapped, though now I wish I'd taken the chance to side-by-side pints of the two. I was definitely at the bar in a celebratory rather than investigatory mood; my notes went largely neglected as I just enjoyed the company and the beer. The quieter-than-average night and the Liberty-packed taps upped the proportion of "beer people" in the room, and it was great — like an End-of-Week Bumper Edition of Tuesday's long-standing Beer Geek Church. Jo seemed to be having a great time, and was definitely in fine form when George and I sat down with him (and Mike, from Tuatara) to record a podcast the next day.
The local craft beer community is fortunate to have Jo; he seems really generous with his time and his expertise (which includes wonderfully-minute details of brewing and engineering), and he's possessed of a worryingly unique sense of humour. And the beer-drinking public is damn lucky to have his beers on the market. I can't remember ever having one that seemed naff or wide of its target. There's a very-credible rumour — though no official confirmation, yet — that there are soon to be much great numbers of Yakima Monsters roaming the world, with a vastly-more-voluminous contract brew coming up.
Yakima Monster was born, together with Yeastie Boys' Motueka Monster, out of a nice little meta-competition run between their brewers alongside Malthouse's long-running West Coast IPA Challenge. The two pit American- against locally-grown hops, and the latter has already been promoted to full-scaled production as 'Digital IPA'.* That beer has a regular place in my cupboards and provided the perfect 'occasion beer' with which to mark my own nerdy observance of Alan Turing's centenary. If I can readily stock my beer-stash with bottles of Yakima Monster, my house will be even more of a home.
* Correction, the next morning: As Joe (with an -e!) notes in the comments below, Digital IPA wasn't originally Motueka Monster, it was Motueka Warrior — the Yeastie Boys half of their head-to-head from a different year's IPA Challenge.
Original Diary entry: Liberty / Galbraith's 'Yakima Monster' 1/6/12 6% on handpull, and a smidge from the cask on the bar, thanks to Steph. After a day in the Garage with Joe5 + Mike, now hanging with Hadyn6 + Narelle. Oodles of Liberty! It's everywhere. So is Joe. This is lush. Not scary at all. Like pineapple barley sugars. Fat and delicious. Not a huge difference from the cask — just a little more apparent bitterness, maybe? It's a quiet-ish evening ("Queen's Birthday" weekend), but a lovely night at the pub. And suddenly there's a Yakima Scarlet in front of me. Huzzah.
---
1: Which admittedly doesn't yet exist, but should.
2: Thanks to the work of — among many others — Barry Hannah, Anton Hart, and the folks at Deflux.
3: Examples? Off the top of my head, per category: 1) The Peak beers or Stoke's main range, 2) anything from Pumpclip Parade, and possibly things like Wanaka Beerworks' 'Lady' and the Bennett's beers, 3) Mussel Inn (though not, in that case, in a bad way; it suits them, charmingly-odd hippies that they are), 4) Sprig & Fern, maybe, 5) Moa, naturally — and 6) Three Boys, Renaissance, Yeastie Boys and Hallertau's Main Range / Numbered Four, then 7) things like Garage Project's 'Day of the Dead'a and especially Hallertau's 'Heroic' Range, i.e., the big 750ml bottles with the mock-classical relief art. I've thought about this quite a bit, and I honestly think 'Stuntman' might just be the Best Beer Label Ever, Anywhere; it's gorgeous, classy, and understatedly hilarious at the same time.
— a: Again: disclosures, disclosures.
4: Scare-quotes made necessary by a) it not being the actual birthday of Elizabeth Alexandra Mary Saxe-Coburg-Gotha, and b) by me being the sort of Republican (in the philosophical / small-r / non-U.S. party political history sense) who'd rather not celebrate these things at all.
5: It wasn't until I was writing up the podcast we recorded the next day that I checked around online and found that the preferred / consensus abbreviation for Joseph is, in this case, just "Jo".
6: Hadyn's got an uncommon-but-not-unheard-of spelling for his name, and I occasionally blank out on just how it goes. I'm rather pleased with the little trick I came up with, in my handwritten notes, to split the difference between my two best guesses.