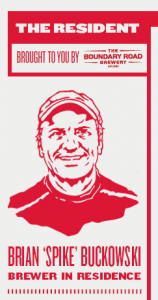 First, let's just go ahead and stipulate that Brian — 'Spike' — Buckowski is a totally stand-up dude and a talented brewer. I've heard absolutely nothing to the contrary and it was pretty clear from the blog of his travels that he was an open-minded and enthusiastic traveler to our little country at the bottom of the World and I've had Terrapin (his home brewery) recommended to me rather highly. I genuinely wish I'd bumped into him and been able to share a beer. Second, I'll emphasise that I haven't — yet — tried the beers that resulted from his 'residency' at "Boundary Road Brewery" / Independent Liquor. Maybe they're great. I sure hope they are, because my curiosity simply won't let me not try them.
For now, the brewer and his beers aren't the point. I'll even readily concede that the 'residency' itself was a good idea. Boundary Road's beers are pants; on their best day they're bland and uninteresting mega-scale buckets of cheap swill — and at their worst, they're weapons-grade vileness of the sort you'd hurl at the footsoldiers of an oppressive regime. Maybe the whole project started in the mind of someone with sincere and genuine intent. But it doesn't look that way anymore, after the marketing department had their way with it. The problem here — say it with me now — is brandwank.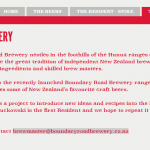 It's not even a real brewery, for fuck's sake. The "Boundary Road Brewery" is a recently-developed imprint of Independent Liquor, an outfit for whom I think the phrase Industrial Alcoholic Beverages Manufacturer is a far better fit than "brewery", given that they also make a bewildering array of RTDs and will sell you some in a three litre box — among other reasons I chronicled in my 'Chosen One' write-up not so very long ago. They've also got some pretty-amazing gall if they can straight-face the claim that "here the great tradition of independent New Zealand brewing continues…", given that they're now a subsidiary of Asahi — a buy-out which is the only reason they've got the scratch to fund this kind of stunt in the first place. They're on a well-resourced mission to take up a seat beside Lion and D.B. in the local market (in more ways than one), but they're trying to pretend they're just another humble-and-battling little guy. Hell, there's even a small suggestion that Spike didn't realise the real nature of the "brewery" until he walked in the door.
And then it's all introduced with a surprising degree of wank and implied insult to the already-existing and honestly-independent parts of the local scene with a slickly-produced video that's well worth a close viewing:
The halo around the gate is partly to obscure the reality of "Independent" as a sprawling industrial site, not some cutesy little place "nestled in the foothills of the Hunua Ranges".
"A brewer the likes of which this country had never seen" is pretty fucking outrageously insulting to the talents of the locals, frankly. And if you just want to be pedantic and claim they didn't mean a slight on the quality of local brewers — just on their mere local-ness — then I can point to Sam Caligione, anyway. Another renowned American brewer,1 he came here a few years ago for an honest-to-goodness collaboration with Epic.
Athens, Georgia is the home of REM. Which is a fine and worthy thing to be. I've never — until now — heard anyone call it the home of craft brewing.
Other than a few give-away shots, the editor really does deserve credit for keeping up the illusion of "Boundary Road" as a little self-existing thing, rather than a column in the balance sheet of something humongous.
The pilot-batch recipe for Resident IPA does seem to have a decent whack (what, 5g/L?) of New Zealand hops — particularly Sauvin and NZ Cascade — and so could be good fun. Depending on the faults / recipe changes the big-batch brings, of course…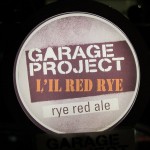 That, and despite their enthusiastic claims, red rye beers aren't "new to this market". Granted, the only one that springs immediately to my mind is Garage Project's short-run 'L'il Red Rye',2 but if Independent are going to go to all this effort to lecture the local craft beer industry, we're probably entitled to have them pay attention. Given that their stated "project" is "to introduce new ideas and recipes into the NZ craft beer world" and their other two 'resident' beers are a pilsner and an IPA, they did kind-of oblige themselves to hype it up, but The Google isn't exactly difficult to use, is it? The worst bit of that, though, is how — when their error was brought to their attention after a few people pointed it out today, myself included — they just cheerfully threw Spike under the bus and blamed him for not knowing, rather than apologising for not checking. It's all just a bit sad.
And aggravating. Because there's a lot of money behind this, and going by what I hear from the front lines of retail, they're reaching a lot of people. More than a few voices in the beer community are just glad to see someone other than the Big Two doing well, and are optimistic that this'll expand the reach of the craft sector. The Lion / D.B. duopoly justifiably draws a lot of ire, but "Boundary Road" / Independent aren't trying to kick that over in any laudable way; they're just here to take their slice. Their price point makes it clear that they're aggressively pursuing people who aren't ordinarily "craft beer" consumers, and they're targeting them with a) massive distortions riddled with cynical bullshit and b) beer that's often just fault-riven and dire. Neither horn of that dilemma should be any comfort to anyone fond of good beer and interested in the long-run growth of the sector. And the people who push this stuff are so practiced at it — and our media so lazy / overworked (depending on your sympathies) — that the odds of any kind of reality-check in the inevitable, free, and uncritical coverage these stunts get is essentially nil.
Again: the "Resident" range might be worthy, as beer. I'm looking forward to finding out, and will do my level best to try it fairly. But the project remains a con. This is one of the real problems with relentless brandwank; even when the product itself is praiseworthy, it can perpetuate a whole bunch of truly depressing trends. Try as you might, you can't attach an explanatory note to the money you hand over when you buy this stuff and there doesn't exist a line-item veto over which aspects of the company budget your money supports. If you're in, you're in — as much as you'd perhaps prefer to side-step the marketing department and just pay the brewer directly.
---
1: Moreso, if anything — no offence meant to Spike, but Sam and Dogfish Head are legendary on a whole 'nother scale. And you'd think the ad-men might've known about that, given that Dogfish Head brewery was one of the dummy answers for their multiple-choice quiz's question on where Spike came from.
2: Which I had back in January of this year, while I was still a Malthouse employee, sitting at Hashigo Zake on my night off. Now, I'm an employee of the people who made it and the place I drank it. Things change. But I suppose it's worth noting that I'm not on the clock (for anyone) right now, and wasn't when all this came to my notice.