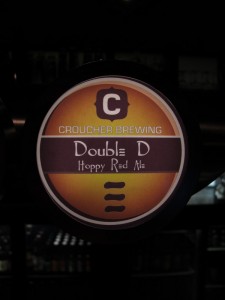 It is, for some reason, traditional that here in Wellington trans-Tasman flights arrive Eastward around midnight and depart Westward just before sunrise. I suppose it makes its own kind of sense, but it does mandate some bleary-eyed mornings and lead to the occasional un-bookable blank evening if you're excitably waiting for a plane to land. On this particular day, Emma was inbound for a holiday and I was parked up at Hashigo with her High School friend and former flatmate Joaquin — who, for reasons of pronunciation and my weird sense of humour, I simply refer to (not just in my notes) as "The Spaniard" — while we waited for the time to head to the airport to meet her late-night arrival.
My first beer, Croucher's take on a Hoppy Red / India Red Ale, is apparently named after their two junior brewers — Dave and Dave — rather than anything, you know, boob-ish.1 It didn't have the vibrantly glowing redness of Bright Brewery's 'Resistance Red', instead appearing more like a somewhat-paler version of that hazy crimson in the prototype batch of 8 Wired's 'Tall Poppy', which was a minor-league disappointment. Overall, the beer was enjoyable, for sure, with nicely fresh fruitiness about it — but I just couldn't shake the oddness of a slightly minerally / flinty note. In addition to a slightly-too-thin body, I just kept being reminded of tonic water2 and became gripped by thoughts of an equally-red gin to go with it. Which is madness of a kind that I can't entirely blame on the beer, certainly, though I should stress that I subscribe to the belief that gin is amazing — and so anything that puts it to my mind is work a look. 'Double D' tastes like a First Draft, but one that's well on its way to its goal.
It wasn't quite what I was looking for, and I found myself with time to spare, so I had another. And I spent some time struggling to figure out what to have next before noticing the 'Apothecary' Amber badge on the handpull right in front of my face. I've had a few Raindogs beers — including one during the podcast recorded between this Diary entry and the previous — and they've all been solid so far. This was no exception, and succeeded in being just the right beer for the moment. Perched on the handpull for the photo, it was appropriately "Amber", but under the lights and sitting on the white Daily Menu it managed to seem redder than the intended red thing before it. It suited the (sparkler-ed) handpull really nicely, pouring with a smooth off-white head that made it look like a (widget-ed) Kilkenny, while tasting more like one from a neighbouring, much more exciting alternate universe than the stuff we've got here in our World. It was velvety and sessionable, with a really delicious burnt-toffee finishes that goes on for ages and ages. Or at least long enough to bide your time with, until you're due at the airport.
Original Diary entry: Croucher 'Double D' 7/6/12 (6%, $11, 425ml) @ Hashigo with the Spaniard while Emma's in the air. Hoppy red ale, but not sirenny like Bright's. Hazy ruddy amber. Nicely odd nose + taste. Flinty? Like tonic water in that minerally fruitiness. Makes me want red gin, not that that's a thing. And then a Raindogs 'Apothecary' Amber (4.9%, $8, 380ml) which is nearly as "red". Lovely and smooth and easy, like Kilkenny from a non-boring alternate universe. Lovely burnt-toffee note and a long finish. Just what I wanted.
---
1: They're obviously also going for the bra-size-pun, of course. But the fact that they do have two Daves on staff and the fact that they also drop a Dr. Seuss reference entirely excuses the laddish humour — in this case — if you ask me.
2: Speaking (as I was) of 8 Wired, prototypes, red beers and tonic water — Søren's experimental low-alcohol 'Underwired' had a similar note and a similar cast, so there might be something in the water chemistry or something about that red malt that kicks up that minerally taste, to me.