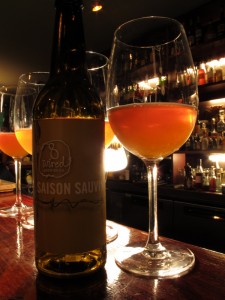 This'll make three posts in a row from that neglected mid-to-late-2011 patch of the Diary that I've resolved not to let rust completely. But this one, at least — or "unfortunately", if that's what you were here for1 — will be significantly less grumpish. Not grumpish at all, in fact, since I apparently enjoyed this one. And I say "apparently" because I'm actually quite surprised at how positive my notes are. This one definitely freaked a lot of people out, and — for many of them — ended Søren's winning streak. I thought I was one of those people; I certainly haven't ever had a second one of these, and didn't think I wanted one. So my memory's evidently bad enough that I shouldn't just take notes, I should also re-read the goddamn things more often. (Or get them on here so other people can remind me, too, I suppose.)
'Saison Sauvin' is outwardly very similar to the variant-yeast edition of 8 Wired's deservedly-famous 'Hopwired' IPA,2 and almost-certainly descended from it since the recipes are rather comparable. You should be familiar with Hopwired and its deliciously intense tropical aromas and wonderfully fierce taste — like a freshly-prepared fruit salad hurled directly at your face. It's a marvellous beer, and deserves to be one of the local scene's real standard-bearers as we make ourselves better known in the wider world.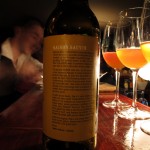 This takes changes things around in a few ways: Saison yeast for some funk, a touch of wheat for a paler and nimbler body, and an embiggened dose of Sauvin hops — all of which team up and turn the thing into a distinctly winey experience; my choice of glassware turned out rather alarmingly appropriate. I'd taken a bottle up to the Hawthorn Lounge to share with Peter,3 and wound up splitting it with a few other bartenders of various kinds while we all geeked-out about various booze-history related topics in that delightful way enjoyed by people with similar-but-different assortments of specialist knowledge, a whole bunch of enthusiasm, and the chance to finally sit down after a long day. And Hawthorn is a fantastic bar; cozy, a little (but not too much) out of the way, and staffed by a barman with bewilderingly encyclopedic mastery of his subject and a real knack for matching a person with the drink they need (even, or especially, when they don't know it). The place looks like how I would like my living room to be, and is hands-down my favourite non-beer bar.4 It is, in short, civilised as fuck.
Which, I think — serendipitously — nicely matches my opinion of the beer. Each is quite-obviously intentionally different from the norm, but not in a way that comes across as clanky or contrived.5 The little extra dose of funk isn't scary or overwhelming — I'm not one of those beer geeks who chases the truly Odd and Sour and Fighty — it had the strangely-comforting quality, I thought (in that weird way that I do, as you can see from my notes), it had a nose on it like the stables at your sprawling-but-rustic country estate (even though you don't have one, and never had one, and nor have I nor any normal people) or like that warm winter jersey that you wear several days more than you should (because you can't bring yourself to do without it for any given laundry day). Both the beer and the bar are interesting but ultimately still comforting while still being just exciting enough for the small hours of the morning.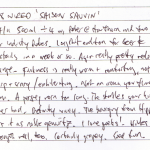 Original Diary entry: 8 Wired 'Saison Sauvin' 7/7/11 500ml ÷ 4 w/ Peter @ Hawthorn and two other Industry Dudes. Longshot audition for Beer & Cocktails in a week or so. Again really pretty reddy orange. Funkiness is really warm + comforting, not sharp + scary / exhilarating. Not an aroma you flinch from. A jersey worn too long. The stables your house never had. Definitely winey. The beerguy from Hippo puts it as noble gewürtz. I love geeks! Hides its strength well, too. Certainly grapey. Good fun.
---
1: And, if so, stick around. I'm sure to get in a ranty mood again soon. In fact, I know I will, because I've got the Diary right here, and I know what's coming up over the next few pages.
2: Which is vaguely-possibly the Diary entry that had me blacklisted on certain workplace internet filters until recently. That write-up contains a vanishingly-brief and extremely tangential mention of pornography, in the ultra-nerdy context of U.S. Supreme Court history — but that's honestly the best I can find. McAfee (who managed the list I was on) did grant my 'appeal', but didn't elaborate on the original cause of the listing.
3: i.e., Peter Lowry. Not Peter Moran (my former Malthouse colleague, friend and neighbour), nor Peter Gillespie (brewer at the Garage Project), nor Peter Mitcham (Australian beer writer, and @beerblokes on the Twitters), nor… — I know quite a lot of Peters.
4: They do have beer, and I often have a lovely Tuatara Porter or Little Creatures Pale. But when in Rome, and all that. So I usually go for their magnificent gunpowder-rum-topped whiskey old fashioned, the discovery of which was a mind-blowing revelation of pure liquid awesome.
5: One of Hawthorn's little quirks is that overdoses of gizmos are actively frowned upon (especially sitting right at the bar) since they are prone to ruining the mood. There is arguably a big difference between fucking about with your camera and twiddling away at Angry Birds or Facebook on your cleverphone. But you don't push your luck in your favourite bar. So the photo at the top there is a little rushed and badly lit. You get the idea, though.