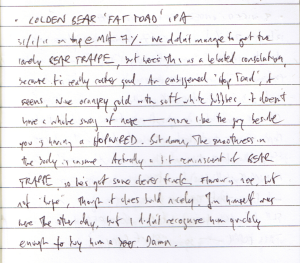 Moderately ironic, granted, that the first post after the one trumpeting the new camera and beer-related photography in general has no photo at all, but let's press on regardless.
Golden Bear (at the top of the bottom island) looks like a very visitable place — just to tie things to the previous post once more and to underscore my desire to make the trip, it has a slightly Creatures-esque vibe about it, what with the Big Shed and the bar-brewery flow going on — and their beers seem increasingly worthy; their 'Bear Trappe' was a real stand-out of last year, for me.
They evidently make a biggish pale ale called 'Hop Toad', and then bigged it up further (another percentage point) to turn it into 'Fat Toad'. We blammed through a keg pretty quickly, which is usually a testament of Interestingness and Goodness. I tried it when it was first tapped, and it didn't have a great smack of nose (as I said in the Diary, it was like someone beside you having a 'Hopwired'), but the taste was lovely and the body was brilliantly smooth. Weirdly, the nose did improve later, so I'm not sure if some strange chemistry and physics was at play in the keg or the line, or if was just the occasional strange biology of my own nose and brain.
And it's just occurred to me that this 'Fat Toad' and Matilda Bay's 'Fat Yak' are only separated in the Diary by four beers. What a strange coincidence and nice reminder that beers to get themselves some weird names, sometimes.
Verbatim: Golden Bear 'Fat Toad' IPA 31/1/11 on tap @ MH 7% We didn't manage to get the lovely Bear Trappe, but here's a belated consolation, because it's really rather good. An embiggened 'Hop Toad', it seems. Nice orangey gold with soft white bubbles, it doesn't have a whole swag of nose — more like the guy beside you is having a Hopwired. But damn, the smoothness in the body is insane. Actually a bit reminiscent of Bear Trappe, so he's got some clever trick. Flavour is nice, but not "huge", though it does build nicely. Jim himself was here the other day, but I didn't recognise him quickly enough to buy him a beer. Damn.