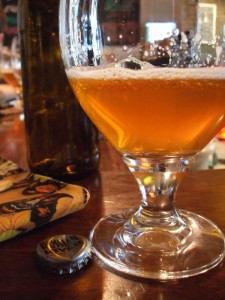 'Pliny' is one of those stupidly-highly-regarded beers that make for a rather weird tasting experience. You always worry about the Emperor's New Pale Ale effect, and when it's brought over 'unofficially' (however carefully), there's the vexed question of whether any Not Overwhelmed reaction is down to an over-hyped thing itself, or simply the result of difficult travel. This wasn't a "grey market" import, this was a trade; brought over by some travelling Americans and exchanged with one of our regulars for some local Good Stuff. From its time in a chilly bin filled with ice and water, it had lost its label, but that was smoothly replaced by an awesome tea-towel from Steph's house (to help keep it cold on its trip to the pub), which I couldn't resist including in the photo.
I thought it was really tasty; properly big and fruity and resiny and just what you'd expect and want out of a West Coast Double IPA. But it didn't completely melt my face and leave me overawed — I'd have put Hallertau's bigger IPAs comfortably in its league, for example — though there's just no way to tell whether that's because something genuinely face-melting had an imperfect journey or if that's just what it was. Two out of the four of us had had it before, and did attest to it being better last time they had it, but that just opens up the batch-to-batch variance and the subjectivity cans of worms.
Which is really the whole lesson, isn't it? There is no objective "best" beer. You like what you like, and that's just how it should be, especially if you can start to put your finger on just why you react like you do to something — and doubly-especially if you remember to keep in mind what the brewer was trying to do when you evaluate something. Personally, I thought this stuff was bloody good — but I don't think you need to go so far afield to get something in its class.
Verbatim: Russian River 'Pliny the Elder' ÷ 4 w/ Steph, Johnnie + Llew. Sample traded for some local goodies by Steph. Apparently treated about as well as you'd hope, but S+L still say it's not at its best. The pine needle side is lacking, going more to melony fruitiness. To me, it's Maximusesque; all those Northwest hops. It's always tricky to try something so ludicrously highly regarded — you always worry about the prospect of Emperor's New Pale Ale. I really like this, but it hasn't knocked me out of my shoes; maybe that's a travel thing, or maybe the blessed subjectivity. The 3 are all agreed that I have to retry Moa Pale Ale, so here's hoping that was a dud. Consensus here [about 'Pliny'] is both tastiness + disappointment. Not up to legendary status.