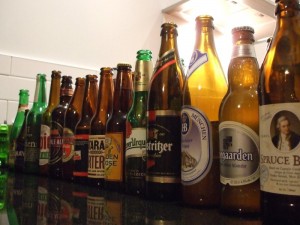 George (the gifter of the original Diary) organised a little tasting session at his house for a few friends of ours, with me playing the Informative Nerd. I'll be the first to admit that I made them all run a bit of a marathon, but we hit most of the Big Styles, did some Interesting Comparisons, and had a whirlwind tour of the Long and Rambling History of Beer.
There's a lot more variation in beer than there is in, say, wine or whisky, so a fairly zoomed-out overview can go a long way towards making people more 'conversant' in the basic styles, why they are what they are, how to figure out what they're in for by looking at the bottle, and to help people discover what is (and isn't) Their Thing.
I can't help but notice, though, that I utterly failed to fulfil Jessie's request / demand for a "super-awesome" Diary entry. I'm definitely more of an improvisational entertainer than an on-demand one — and that curry was seriously distracting. Especially after all that beer.
Verbatim: Beer 101 10/10/10 I have to write something super-awesome, says Jessie. No pressure. Tasting session & history lesson at George & Robyn's, with Jessie + Simon + Pip. Great chance to get my nerd on, and evangelise to Robyn. We had: – Wigram Spruce Beer – Hoegaarden – Hofbräu Munchner Weisse – Köstritzer – Pilsner Urquell – Mussel Inn Golden Goose – Tuatara Porter – Invercargill Pitch Black – Emerson's Bookbinder – Fuller's IPA – Epic Pale Ale – Three Boys Golden Ale – Chimay Blue – Kriek Boon. And now, George + Pip have wrangled us a curry. Bloody marvellous.