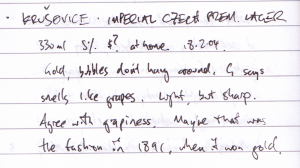 Half-way through a little quartet of random imported European lagers, probably reflecting a biggish shipment arriving at King & Godfree.
Verbatim: Krušovice Imperial Czech Prem. Lager. 330ml, 5%, $?, at home, 18/2/04. Gold, bubbles don't hang around. G says smells like grapes. Light, but sharp. Agree with grapiness. Maybe that was in fashion in 1895, when it won gold.
Afterthoughts, October 2010: It does continue to baffle and annoy me that so many beer labels are still in the habit of lauding medals from decades, or even centuries past.