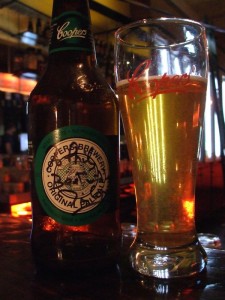 This entry from Diary II is unique (so far), in that it contains absolutely no tasting notes. Coopers bloody-lovely Pale is something I've had umpteen times before, but had never given its own entry; the Diaries were never about recommendations for other people, originally, and I knew this well enough that I didn't need to write about it.
And then, Dr. Tim Cooper himself — the latest heir to take the reins of the brewery — paid our little country, our little town, and our little pub a visit. My first proper bar-tender geek-out was when Richard Emerson — another heir to another eponymous brewery — visited the Malthouse on one of my first few shifts. I've had a few such borderline-fanboy reactions to meeting other beer industry folk since, but none as acute as this, for a while.1
Tim was in town for a bit of a shindig to celebrate the new-ish mass-importing of his beers into the Little Country; we've had several kegs of Sparkling, Vintage and Stout on tap already. And he seems to be an utterly lovely chap. A semi-regular customer — a Suit who is occasionally-bothersome, but harmless enough — insisted on shouting a round, and Dr. Cooper elected for a Pale (apparently his favourite go-to of their range), so I joined him, and then revelled in my unashamed nerdery by asking him to sign the bottle.
Verbatim: Coopers Original Pale Ale 23/9/10 at work, bought by the same random occasionally-bothersome suit who shouted the above. (And I do mean 'shouted'.) This round was precipitated by the appearance of Dr. Tim Cooper himself. There was a bit of a do for the new imports and such. And he seems like an utterly lovely chap. He picked one of these for his in this round, so I joined him, then wrote this, obviously. And just as I was thinking a photo would be lame, I got him to sign my bottle. Now that makes for a photo opportunity. [Heh; no tasting notes.]
---
1: The pairing is really rather apt. Emerson's Bookbinder was probably my first proper local microbrew; Coopers Sparkling was my first Australian — and both are members of my All Time Favourites and were therefore written-up together for my contribution to the Malthouse Beer Blog. Coopers & Emerson's would also have to be acknowledged as leading the proper-brewing trends in their respective countries — though the former takes the gong by a hundred years, and the latter makes up for tardiness by being much more experimental.