Beer first, rant second. It was a favourite rant, back when I was bartending, but for once I should go beer first. And despite the seemingly-faint praise in my notes, I really did quite like this one. That garish and comical HB tap has been at the Malthouse (at least) since the bar moved to Courtenay Place, and I just couldn't ever really see the attraction of the Hofbräu 'Original' that usually poured from it.1 This, their Maibock, was a pleasant exception, in two senses: it was much more palatable (to me) than anything else to come from that font, and it was just pleasant. Nothing earth-shattering (though, like its Octoberfest sibling, armed with surprisingly-formidable strength), soft and lightly flavourful, with a nice texture and a gorgeous appearance. That latter factor deserves an apology, since my lovely camera should let me at least convey the appearance of a beer properly and sidestep all the usual problems of subjective experience, but I hadn't yet had white balance lessons and I short-changed it rather tragically. You'll have to take my word that it's an incredibly-appealing glowing reddish-amber; it somehow made those big and cartoonishly-German handled glasses look good.
Not that I had a full-on half-litre (or larger) mug, though, as you can perhaps discern from the scale of things in the photo — or from skipping to the end and reading my original notes, wherein I also mention the "N.S.R."; the New Staffie Regime. The Powers That Be at work had decided that we should economise on after-shift drinks, of all things. Years previous, the hard-won rule became a nice-and-simple "one pint of anything you like on tap", but the N.S.R. put in a ten dollar retail price ceiling, for fuck's sake.2 Thinking about that, and then about the God Damn Motherfucking Reinheitsgebot was enough to put me in an enjoyably and full-flightedly ranty mode.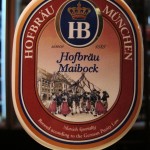 The (G.D.M.F-ing) Reinheitsgebot really does piss me off, with its perfect storm of brandwank and pseudo-history and dim-witted jurisprudence. The short version is this: anyone who recommends a beer (their own, or not) by reference to the German (or, for a bonus mark, "Bavarian") Purity Law is either a) an idiot, b) assuming you are an idiot, or c) just blindly going along with a marketing trend without caring whether the reference is accurate or not.3 Basically, there just is no Reinheitsgebot in existence that's anything like the usual versions of the myth — or worth crowing about at all.
People like boasting about heritage, a seemingly-ancient date, and a tradition that's stood since time immemorial. So "1516" appears a lot, but refers to a time when there didn't exist a Germany and when what was then called Bavaria was rather-different to what now bears the name. And it's quite a bit before microbiology was a science (or even a hobby), so the original Three Permitted Ingredients entirely fail to include yeast, and good luck to you if you're making beer without that; do let us know if you succeed.
But nevermind yeast, if you feel that's mere sophistry or too technical a complaint. The 1516 rules mandate barley as the only allowable grain, despite just about every famous German Hefeweizen — i.e., wheat beer / not-just-barley-beer — that makes it to this part of the world proudly proclaiming their adherence to the "Law" anyway.4 So you should pause before cheering for this tradition if you also happen to be fond of fruit beer, or oatmeal (nevermind oyster) stout, or sugared-up high-strength Trappist ales, or any one of a metric fuck-tonne of styles which cheerfully disregard this nonsense and get on with being fantastic.
Worse still, there's absolutely nothing in the text about "purity" at all, in any normal sense; no demand for clean water, fresh barley, or this season's hops. Likewise, there's no mention of cleaning your brewery, properly sealing your bottles, or just washing your damn hands. Contrary to reputation, there's nothing in this which has the character of "consumer protection" — other than the elaborate price-fixing mandates which take up five out of the six proclamations; the famous and apparently ground-breaking part of the law is casually tossed off in a single sentence plonked awkwardly in the middle of the text and looking for all the world like it was left there by accident.
The whole history of the thing owes much more to provincialism and protectionism than it has anything do with genuine concerns for "purity" in any laudable sense — and there are damn few laudable senses of purity anyway. Almost everything ever said about it by a brewery's marketing department is complete and blatant pants and its psychological hold on a whole nation has really stifled their brewing scene, which is a tragic waste of energy and misallocation of people's passions. To quote the gleeful shouts of multiple brewers I've witnessed doing something, in pursuit of a delicious result, which would've caused heavily-accented tutting and tisking half a millennium ago: fuck the Reinheitsgebot — it's not what it says it is, and it's just a bad idea. Let it die.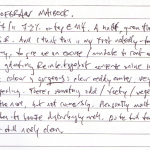 Original Diary entry: Hofbräu Maibock. 7/7/11 7.2% on tap @ MH. A half, given the N.S.R.. And I think this is my first nakedly-tactical entry, to give me an excuse / mandate to rant about the gdmfing Reinheitsgebot nonsense online later… Its colour is gorgeous; clear reddy amber, very appealing. There's something odd / [illegible]5 / vegetal in the nose, but not ruinously. Pleasantly malty, hides its booze disturbingly well. Quite full feel, but still nicely clean.
— A (Preliminary) Reinheitsgebot Hall of Shame:
Beck's is, at first glance, the worst example here; they're using the specific "brewed under" terminology (rather than more-usual "according-to" language) to bolster the I'd-happily-argue-actionable lie that it's German beer, not a locally-brewed clone. The label is full of non-English text and details that are clearly aimed to give the impression of an imported beer — a fact only belied by teeny-tiny text on the back sticker. The fact they engage in Reinheitsgewank and get the 1516 law wrong (by smuggling in yeast) is almost the least of its problems. The genuinely-German beer Köstritzer tries to pretend it's Purity-Law Compliant even while openly including an unapproved ingredient, namely hop extract, on the label. But then Tuatara, in a promotional booklet, took the cake: they doubly-typo'ed "Reinheitsgebot", trumpeted their adherence with it while also (rightly) celebrating the medal wins earned by their Hefe and 'Ardennes' — at least one of which (if not both) is in plain violation — and skated perilously close to violating Godwin's Law with the unsubtle reference to 'Bavarian regimes' at the end, there.
---
1: Nor the Octoberfest version that came on annually, though with an Oompah band in attendance and everyone in costume, it was impossible to resist — but for occasion-based reasons, only; it was inherently pretty bland and samey, with a weirdly pointless higher ABV, since it didn't seem to effect the flavour much at all. ↑
2: In the best-case scenario (from the point of a cost-cutting Power That Were), using unrealisticially optimistic values for the cost and staff choice variables, you could maybe save seventy bucks per week. Pretty much a rounding error on Courtenay Place rent. As far as I could figure, the real number was likely in the $20-30 range given that very few beers were much (if anything) over the $10-retail mark and very few of us drank the 'cheap' $8-retail stuff anyhow. I'm sure that sounds bitter (and nerdy, since I stopped just inches short of showing the actual maths of my working-out), but the N.S.R. really did come across as a needless smack in the face to the staff. ↑
3: This third option is what the philosophersa call bullshit. The first chap, in a), is just wrong.b b) is a liar and would easily find work in any number of marketing departments. But c), the bullshitter, is the most dangerous of all: at least liars are in some sense concerned and engaged with the truth. Bullshitters, advancing their own agendas without any regard for a the real state of things are bigger enemies of truth and progress than liars will ever be — and will therefore probably be found forming their own marketing agencies. (Or in politics.) ↑
— a: Or at least one of them, namely the incomparable Harry Frankfurt.
— b: And there's not necessarily anything wrong with being wrong, as such. It's what you do with your wrong-ness that counts; ignorance is where everyone starts about everything, but it's just pointless and basically immoral to be incurious.
4: Later amendments do allow for wheat. But they do so by arbitrarily splitting the rules for top- and bottom-fermenting yeasts. And for the latter (i.e., for ales) it's not just wheat that's allowed; you can pour in sugar if you like, too, even though that unaccountably usually goes unmentioned. And the later revisions also entirely fail to regulate any kind of maturing time for lagers, despite that being kind of the point of those styles, historically. ↑
5: This happens sometimes, with my particular combination of scratchy handwriting and patchy recall. I thought it'd happen more often, in fact. But on this occasion, I've got no freakin' idea. Fighty? Firey? Ah. No; maybe I've got it: feety. My friend K.T. used to occasionally describe some beers (particularly old-school English ales) as feety or footsy. I think that's what this is. ↑