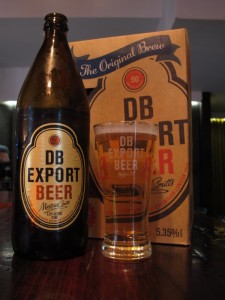 To re-cap, almost cretainly unnecessarily: beer has alcohol in it, alcohol is massively regulated and subject to substantial taxes, and the vast bulk of beer on the market is made by a few giant companies (themselves usually part of sprawling industry mega-conglomerations) and produced at a rather striking profit. The inevitable tensions ensue, and are knotted into a sticky tangle by politicians' divided loyalties, a rather surprising level of ignorance about the relevant statistics and the strange ease with which humans can apparently be whipped into a moral panic about this stuff.
Towards the end of 2010, a review of the local liquor licensing laws has in full swing and this beer emerged as a relatively subtle incarnation of the recurring to-and-fro between the regulator and the regulated. The whole thing was still swinging this time last year, when I eventually decided I really should try the beer and stick it in The Book — and the debate hasn't stopped yet, as these things usually possess a fair amount of inertia. The beer's release wasn't presented as anything topical, of course, but the veneer of bullshit that it was wrapped in was fairly transparent, to sufficiently-cynical eyes — in my own honest opinion, at least.
The official story — complete with websites, full-page newspaper ads, and a big-money TV / cinema advertising campaign — was that this was a celebration of the 50th anniversary of an iconic beer developed by Morton Coutts, who D.B. have taken to parading-around like some kind of inventor folk-hero.1 Apparently, Arnold Nordmeyer's 1958 "Black Budget" jacked up taxes (on imported beers) and Export Beer came to the rescue of the working man. Except that's exactly the sort of tax change that local breweries (before they were absorbed into international conglomerations) would've lobbied for and the factory-blokes in the ad were unlikely to've been drinking imported beer in the first place.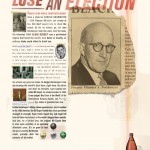 So desperate were they to 'land' the story, they drenched it in typically-depressing ultra-gendered language and resorted to using clips of the 1951 Waterfront Lockout as if they were footage of popular uprisings against the alleged beer-and-fun tax. For the latter, they were given a tentative little smack by the Advertising Standards Authority — the former (i.e., the sexism) is still just business-as-usual, sadly — and forced to withdraw the ads a few weeks early. But I doubt they cared; this was never about the Export Beer: you just don't celebrate a beer this hard when you've already given up on it, in favour of a watered-down version, nearly a quarter-century ago.2 If you were so fucking proud of this thing that you'd fanfare its 50th anniversary, wouldn't you have let the product survive to see its thirtieth birthday? The brandwank drones on about the quote Export Family unquote, but carefully avoids mentioning how that family's eldest member was quietly taken out to the woodshed, unmourned, in the late eighties.
The anti-government / anti-regulation tone of the whole campaign was laid on incredibly thick, with the narrator also getting in a "never trust a man who doesn't drink" barb (Nordmeyer apparently didn't) — and whole thing has a clankingly-awkward tension between its pro-working-class pretensions, the reality of it as a series of ads made by suits for hundreds of thousands of dollars,3 and its coming out of a company who also produce beers which pretend to be imported and are branded as "premium" this-or-that in an effort to spin them so they appeal to just the "toffs" who are so casually derided in this campaign.4 And all of that — the overblown manner, the nastiness, and the fundamental lack of any kind of logical coherence once you look too closely — tell you what this really was: politics. Parliamentary committees and commissions start to review liquor regulations, and someone who makes a metric butt-tonne of money selling booze engages in a little sabre-rattling and murmuring that they brought down a government once, and so could do it again. Predictable, almost boring, and faintly depressing — although, strangely mercifully, a bit of an ineffectual damp squib.
So just like the beer itself, I suppose.
Verbatim: DB 'Export Beer' 6/7/11 745ml Quart bottle 2pk ÷ 2 w/ Peter. 5.35%, amusingly. [Transcribed later, since I couldn't find a black pen…] All sorts of ad-man nonsense, again. And since they actually missed the 50th they cite,5 I think Martin's right. Incredibly pale yellow; between Bud & Molson. Likewise in taste. No faults, some trace of nice fruit in the middle. But very nothing-much.
---
1: Morton is no relation, it should be stressed, to local craft beer luminary Steph Coutts — she does seem occasionally nervous that people might assume a connection. And on D.B.'s recent heavy-handed use of the Coutts name, it's worth pointing out that there's something distinctly uncomfortable in the way that it's all really ramped up in recent years since Morton died in 2004 and is no longer around to have his own say. I've heard enough conflicting second- and third-hand reports of things said by the man that it doesn't seem straightforwardly obvious he'd be keen to see these recent uses of his name and likeness.
2: 'Export Beer' was replaced, in 1987, by 'Export Gold' and 'Export Dry'. Both are lower in ABV than their predecessor — and the more-popular Export Gold significantly so at just 4%. Given the way excise tax on alcohol works in New Zealand (where stronger beers attract proportionally more of a levy), it's hard not to see the downsizing of the beer as precisely the kind of number-crunching tax-policy-first decision making that they so gleefully pilloried Nordmeyer for.
3: Case in point: the ads are narrated from the point of view of Morton Coutts' barber, a humble working-class dude who sympathises with the pub-going factory-worker chaps across the road. He's about as folksy as he could possibly be without becoming literally nauseating — but (according to a write-up in the NBR) he's voiced by Roger McDonnell, founding partner of Colenso BBDO, member of the TVNZ Board, and presumably a dweller in the toppest of top tax brackets.
4: This sort of tension is inevitable in giant conglomerated producers of the sort who talk about their products primarily as "brands", and it never ceases to amuse my peculiar brain. I think my favourite was when Jim Beam was marketed with the "if it ain't Beam, it ain't bourbon" line and Maker's Mark was bandied-about as "the World's finest bourbon". Since both are produced by the same people, I wrote to them and ask how exactly the fuck both statements could be true — and if one was just brandwank, would they at least tell me which? Unaccountably, I received no reply.
5: I initially thought they missed the anniversary, but it seems I was wrong about that — though they did cut things mighty fine, releasing this beer right at the end of 2000. As you can see from my Diary, I drank this around-about this time last year; stocks evidently lasted several months (hell, it might still be around; I'm not sure), and someone from D.B. had rather-misguidedly dropped off samples at the Malthouse. My bottle was one of those, since no one else was remotely likely to reach for it, and I'm capable of deriving different kinds of enjoyment from bland-but-brandwanky beer.