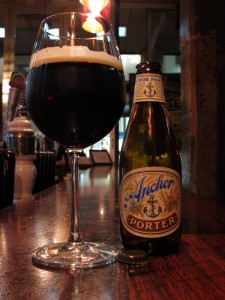 One of the genuinely-many delightful things about celebrating "occasion beers" keyed to non-local occasions is that the magic of timezones can grant you quite a bit more time — in case you'd like to keep the party going, or just if you're the forgetful and distractable sort.
So I didn't get around that absurdly sexy Anchor Porter right there until the local day-after the Fourth, which was probably still the actual Fourth, since ours is a large-ish and sedately-spinning planet, around which it takes a while for daylight to circuit. No harm, no foul, right? But gawd is Anchor Porter sexy, in a bookish and interesting way that a hack Hollywood director would be obliged to convey by having it take its glasses off and let its hair down.1 Which is me anthropomorphising to a worrying extent, I realise, but I run of out words to describe the reliable-but-perpetually-exciting loveliness that the beer's always granted me. I was, therefore, almost glad to've run out of time on the local Fourth; it deserves your full attention.
So there we were, last year,2 celebrating the Fourth while we worked, in the company of a handful of lovely people, most of whom could credibly claim some degree of other of Americanness and with a fittingly-fantastic array of four U.S. beers with gloriously-ostentatious tap handles happily assembled.
My first beer of the night — the rumours are true; one of the few unalloyed joys of bartending is that you occasionally / frequently drink while you work (although the hours and the pay sometimes drive you to it, on balance) — was a 'Hop Wallop' IPA from Victory in Pennsylvania, generously shouted-by and shared-with our friend Kimmy (who, if memory serves, hails from nearby). Apparently originally a hop-harvest seasonal, it has all that lovely, intensely-aromatic high-velocity fruit salad kind of zip. It was heady doses of lushness and gorgeousness at the front, quickly replaced by a surprise bitter punch in the neck before it ran off and hid long enough for you to be lulled back by the nose. (Then wham-rinse-repeat happily all the way down the glass.)
We were also lucky enough to all split a rigger / growler / flagon3 of Brewaucracy's then-new 'Punkin Image, Ltd.', a pumpkin beer and, as such, something very American while being not at all Fourth-ish. They're traditionally Thanksgiving-related things, but when you're displaced on a spherical planet, the seasons get all ass-backwards. So another of 'our' Americans, Annika, made proper pumpkin pie, and an unmistakable home-comfort happiness dawned on very many faces. Except mine. Mine was a face full of skepticism and doubt, since I've long held to the maxim that Pumpkins are Pig Food and Pigs are People Food; for peoples to eat pumpkins would be to inadvisably leapfrog the food chain. But I'd previously tried Dogfish Head's pumpkin beer, and was astounded to find myself enjoying it, so I gave them both a chance — and can happily report that I am, weirdly, very fond indeed of both pumpkin beer and pumpkin pie as much as I still detest pumpkin pumpkin. Maybe it's a texture problem, with the actual thing, or just the fact that — in both the pies and the beers — any flavour they might've had before they went in is completely swamped by deliciously soothing and satisfying winter spices.
And finally, I had (in my personal stash, secreted in a corner of the fridge) a great-big bottle of the then-new vintage of Yeastie Boys 'Her Majesty'. Sharing it with a bunch of my favourite beer-geeky women made enough sense just leveraging off the name, but the label on this vintage went out of its way to deliver a beautiful fuck you to the sadly-prevalent sexism in this business, and that firmly cemented the idea. A rather-radical departure from the previous year's edition — with which I began my second Beer Diary — other than in the Belgian-yeast department, I have vague memories of it causing some consternation at the Matariki Winter Beers Festival, but I definitely recall enjoying its dry, peachy funk. But it couldn't really fail, when served according to the directions: "Enjoy responsibilty with friends, laughter and music". Done.
This year, I'll be helping out at Hashigo which — owing to the formidable stock of West Coast U.S. beers they import and the statistically-significant fraction of expats in the local craft beer community — is traditionally a busy one. They've rather spectacularly one-upped my "Four of July" from Malthouse last year, with eight visiting Americans in a row all along their main bank of taps. Should be a great lark.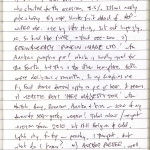 Original Diary entry: The Fourth of July 4/7/11 working @ Malthouse with Petey & Halena. 1) Victory 'Hop Wallop' IPA ÷ 2 with Kim, who shouted for the occasion. 8.5% 355ml nicely pale + hazy. Big nose, blunter fruit salad cf. Hop Wired etc., nice big bitter sting, but not lingeringly so. So kind [of] like Punk, in that see-saw 2) Brewaucracy 'Punkin Image Ltd.' with Annika's pumpkin pie! Which is hardly-usual for the Fourth, but this is the other hemisphere. Both were delicious + smooth. So my Pumpkins are Pig Food stance doesn't apply to pie or beer, it seems. 3) Yeastie Boys 'Her Majesty 2011' with Haitch, Amy, Shannon, Annika + Kim — some of my favourite beer-geeky women! Total colour / weight inversion from 2010, but still Belgian & Odd. Light, dry, fruity — peachy, I thought. But what do I know? 4) Anchor Porter. Well, that was the plan. I forgot it until the next night. Such a fucking marvellous thing. Rich + fabulous.
---
1: Much to the consternation of geeks and just-plain-decent-thinking people alike; we know you can be perfectly sexy with your still hair up and your glasses still on.
2: I've been enjoying the increased topicality of posting closer to the day I actually drink a beer, but I'm resolved not to let those beers that I had to vault right over languish unpublished forever. I'll try and make one calendar year the high-point of my slothful delay, switching back-and-forth between historical and current posts as I go — but leaving that mind-breaking back-dating scheme I formerly used entirely to its retirement.
3: Depending on your linguistic heritage, knowledge of Antipodean slang terms, and/or the state of local trademark law.