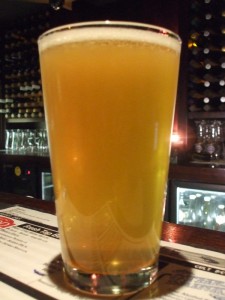 On February 26th,1 Hashigo Zake hosted an amazing fundraising night, donating all of their takings between 6pm and midnight to raise money for a local mental health charity and the Red Cross effort in Christchurch. My plan was to stop by late shortly before midnight, after spending my Saturday night hanging out with some friends. But when Pieta realised she'd been locked out of her apartment and that her key was with her flatmate on the other side of town, it was me and my bike to the rescue. Which was all very fun and random, but it did put me in the mood / give me the need for something light and refreshing once I arrived at the pub.
And damn, was this it. Joseph Wood of Liberty Brewing had donated kegs of his West Coast Blonde, and it was precisely what I needed. The Amarillo-hopped version was on tap at the time (it exists in two differently-hopped varieties, and a a few kegs of both were delivered), and it reminded me a lot of Stone & Wood's 'Draught Ale' (now renamed 'Pacific Ale') — and I mean that as a compliment because I freakin' love that stuff2 — what with the multi-faceted fruit-salady-ness, the gorgeous hazy strawish appearance, and the ability to make a person feel human again. For Liberty's first official release, it's pretty damn promising (and apparently also rather lovely in its Simcoe-hopped incarnation). But we already knew it would be, especially after his stupidly-awesome 'Summ!t' IIPA, which was an unofficial third entrant in Malthouse's West Coast IPA Challenge last year — and which very much stole the show.3
Verbatim: Liberty 'West Coast Blonde: Amarillo' 26/2/11 donated to HZ for their Christchurch Quake / Mental Health fundraiser, which was apparently a huge hit, raising $5K+. Full Marks. I've just been biking around a bit tonight, so needed something light + refreshing. This is very much it. Lovely pale + hazy straw. Fruit[] salady, with edges of smokeyness. 5.5% (I still can't draw fives.) Crisp + dry finish, compared to a nice NZ Pils by some. Really rather reminiscent of Stone & Wood Draught — though I should say "Pacific" now. Stunning burps.
---
1: i.e., "today", if you're playing along with the fiction wherein I update these things as I go, rather than in fits of productivity days or weeks or months (or years!) after the fact. And please, do play along.
2: We had it at the Malthouse after each of the two most-recent Beervana beer festivals. Which puts it in that awkward Grey Area of Not Uploaded Yet Diary Entries. Sorry about that, but take my word for it; its appearances are met with fairly glowing reviews.
3: I'd direct you to its entry, but, er, Grey Area (see above, n2) again. Sorry.