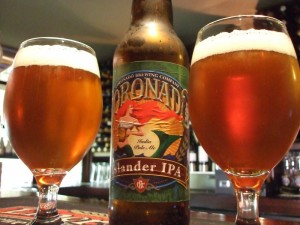 Not long after I showed up, Dave signed off and joined me, perched at the bar. He'd been bought a big bottle of this during the fundraiser night, and he split it with me. Which was extra-good, since it's not often that two bartenders / Beer Nerds get to actually sit and have a beer, given that one or other (or both, obviously) of us is usually working.
They'd had this on tap at Hashigo as part of their recent haul of Western United States goodies, and Dave was instantly taken aback by how much milder it was out of the bottle. It was probably down to the bottle stock being older than the kegs they got — hoppy beers do calm down considerably over time, in the main. There may have been a bit of batch-to-batch variance going on here, too — that being another one of the joys of smallish breweries. Consistency is not an absolute virtue and uniformity is for supermarket stock; anyone demanding it of craft beer is a chump.
Mild-er as it may have been (I didn't try the on-tap stuff), it was hardly mild per se, and we were agreed that it was pretty damn delightful and incredibly drinkable for a seven-percenter. The malt was nicely rich and smooth, and would've easily balanced out considerably higher hoppiness but was inherently delicious even in its absence. After my similar experience of Just Bloody Delightful-ness with their 'Autumn Harvest Ale', I'll have to keep my eye out for these guys; I think there are still a few more in the haul.
And I can't help but notice that this makes a hat-trick of Diary entries from Hashigo's little basement beer bunker. Not a bad run at all.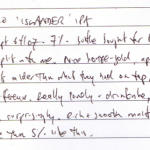 Verbatim: Coronado 'Islander' IPA 26/2/11 1pt 6floz 7% bottle bought for Dave Wood, generously split with me. Nice bronze-gold, apparently a whole lot milder than what they had on tap. Probably a batch difference. Really lovely + drinkable, not a big wallop, surprisingly. Rich + smooth malt. Doesn't taste more than 5% like this.