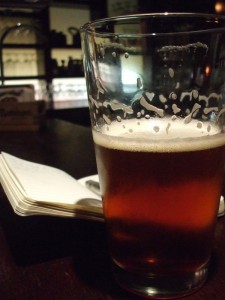 I'd been out for a nice catch-up in the sunshine with some friends who'd just returned from the far side of the world — and being me, I therefore needed some time in the shade. Hashigo's basement beer-haven was the pretty-obvious refuge for me between the waterfront and work.
Since their tap range changes so dizzyingly-often, a little Taster Tour is mandatory, and never a chore. I had a sample of this, first, and can't even remember exactly what the bigger / crazier things offered to me afterwards were; there was just something irresistible about it. I'd never heard of it, and the best that some surrounding Beer Nerds could do by way of description was to tell me it was basically a Märzen — and I'll confess to not really having much idea just what the hell that entailed (though, from what I've read since, it seems a pretty good fit). I often say that there's often a particular joy to be had in trying a beer about which you know basically nothing, and this was one of those times.
I was a wonderfully enjoyable pint, filled with all sorts of interesting angles, but never overdoing things in any direction. The colour of it was particularly striking (with or without sneaky back-lighting tricks), and maybe its redness was part of what helped put me in mind of deliciously snappy apples when trying to pin down the crispness of the body. An incredibly charming beer, I can imagine it comfortably fitting any number of moods. Which makes it a shame that I'll have to travel pretty far to get another. Unless Hashigo have another keg stashed away somewhere.
Verbatim: Coronado 'Autumn Harvest Ale' 24/2/11 on tap @ HZ 5% Had a few wheat beers in the sun w/ Aran & Maeve, stopped by here and was bombarded with tasters. This was first, and I've returned to it for its oddness + goodness. Pale + ambery, about which I know nothing. Which is always nice. Fruity + full + balanced + different. Not a hop bomb. Lovely. Crisp, like red apples. Just a really nice pint.