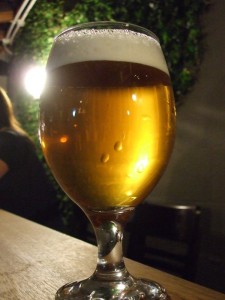 I love the idea of Variant Editions of beer. Though I only got to try the All Together Now culmination, I loved that Mikeller did ten single-hop pale ales in a run. And the Yeastie Boys themselves trod a similar path with their 'Nerdherder' and 'Monster' beers, both of which existed in two varyingly-hopped versions. It sounds like science,1 doesn't it? Doesn't it give you that extra geeky glow of enjoyment? Well, it does for me, at least.
The 'Blondie' golden ales see them in a similar mood, but this time with the differences between yeast varieties up for experimentation. A light, summery body of pale malt (with some wheat) is given a deft touch of local hops and then the 'Europa' variant has a German ale (kölsch?) yeast doing the fermentation, while 'Rapture' employs a Belgian abbey yeast. The latter will be on tap shortly at work, so should show up here in the not-too-distant. But here was 'Europa', on the handpull at the just-opened Hop Garden. Well, the not-really-opened Hop Garden, in fact; we were there on a bit of a sneak-preview "soft open". I'll do a proper entry on the bar itself soon, but suffice to say it was bloody lovely, looked absurdly promising — and has continued to be loveliness, and to build on that promisingness in my several visits, since.
I'm always a little freaked out by something this light on handpull, but that's just me. Well, me, and probably also the fact that the smaller Wellington bars (the ones without the giant keg chillers in which to stack things, I mean) really should probably cool their handpulls down a few notches, especially for beers like these. But as much as I suspected I'd like the regular-tap version a bit better, this was pretty damn tasty and faultless and interesting. Which goes a hell of a long way. I did get to try the colder / bubblier version not too long after,2 and I was right to think I'd go for it more; the extra fruity snap made it just exactly what I was looking for.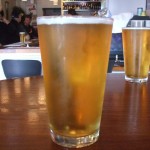 Verbatim: Yeastie Boys 'Europa' 20/1/11 4.?% 380ml @ Hop Garden! Sneaky soft open night. Beer first. Is very promising. For the style, handpull is odd, but doubtless the Yeasties have tweaked it a bit away from style anyhow. It's light + faultless + nicely flavoured. Caleb says they have it cold + bubbly @ Bar Ed! Will revisit this soon then. So: the bar. So neat. Great to have a Mt Vic local. Very, very promising here. Total work-in-progress vibe at the moment — but Hashigo had that on their sneak-peek night, too. I can see where they're going, and it's going to be awesome.
30/1/11 a second, cold & bubbly @ Bar Ed. How appropriate to ha[ve] the "other half" here. George is unenthused, expecting more oomph, which means I should've warned about style better. He thinks it's a bit like a Disprin in Sunny D. And I can see where he's coming from. But I like it. As I thought, I'm more fond of it like this, but it does bring out a real sneaky bitter tail a lot more. Definitely grew on me. Light, but snappy + fruity. Good for a lazy afternoon of talking beer. Which we're doing.
---
1: And by "science", I mean Science!, wherein you pronounce the italics and the capital 's', and take the exclamation point as your cue to thrust your index finger into the air. Proper 1950s Doomsday-Machine-building, cackling-at-thunderstorms kinda stuff, you know?
2: Does this count as double-Science!, now? Does the fact I took notes help?