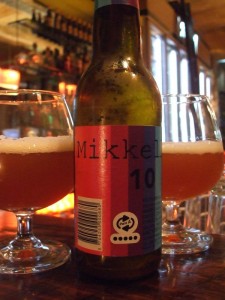 Mikkeller is a wonderfully-mad roving brewer. He's Danish, but this beer is properly tagged as 'from Belgium' — he brews all over the place, the absolute reigning rockstar of collaborations and experiments and (more than occasionally) ludicrously whacked-out beers.
As an exploration / demonstration of the individual character of different hop varieties, he did a ten-member series of single-hopped IPAs, each using an identical base recipe and just one cultivar for its bittering and aroma to really show it off. And then — because, frankly, why the hell not? — he made a 10-hopped IPA with that same base and a bit of everything.
Tasi, one of our regulars and a bartender at Hashigo, kindly gave me a bottle, the mad rainbowy design of which has a section of each of the single-coloured labels from the earlier series — like a tolerable version of that absurd EU "barcode" flag proposal. The colour of the beer itself was gorgeous, and you'd have to assume that was true of the 'singles', too — the nose, however, was naturally something else entirely with a hell of a lot going on. The masterstroke was just that, though. It's very easy to overdo things, with beer, and this could've easily tasted like the sound of a jazz band falling down a flight of stairs, if you'll excuse my recurring synesthesia. But it absolutely didn't; it had balance, and style, instead.
Verbatim: Mikkeller '10' 23/10/10 gift from Tasi + the peeps @ Hashigo 330ml ÷ 2 w/ Scotty, who has revived that black + red shirt we all like so much. 6.9% Really pretty peachy hazy appearance, in a madly colourful bottle, presumably echoing all of the '1' releases at once. (These were a series of single-hopped beers; this has all ten at once.) A suitably complex nose, but not the cacophony it might easily have fallen into. Easily avoids that jazz-band-falling-down-stairs problem of overdoing things. Nothing really stands out individually against the crowd, but that's probably the point.