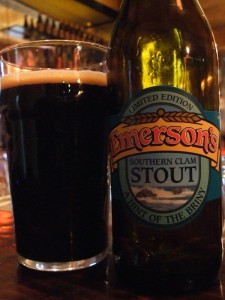 This must be a pretty-damn-rare example of the Emerson's brewers following, rather than leading. You just couldn't say that this wasn't knowingly made in homage to Three Boys' ludicrously masterful Oyster Stout.1 The comparisons are as inevitable as they are apt, and the thing about Imitation's place on the Sincerity Scale of Flattery Analysis comes immediately to mind.
It's properly huge and rich and coffee-ish, and the briny / salt air accompaniment just touches things off perfectly, just as it does with the Oyster Stout — or with posh, rock-salt-topped chocolates. If there's a difference, though I didn't side-by-side them, I might say that this is 'livelier' in the carbonation and thereby body, but it's still very Barry White.
Verbatim: Emerson's 'Southern Clam' Stout 23/10/10 500ml $8? from Regional 6% The label actually says "Warning: contains shellfish". The smell is gorgeous. Rich + coffeeish, with that salt-air hint. The inevitable comparison will be to the (awesome) Three Boys Oyster Stout, but you know the thing about imitation + sincere flattery, right? Quite impressive, really. Hugh flavour; a body full of chocolate with that same saltiness just blamming it up a notch like it does with the Oyster, or with posh chocolates. Possibly a touch 'livelier' than Oyster, but still very Barry White.
---
1: I definitely have at least one diary entry and photo for this lovely stuff; I just haven't gotten around to uploading them, yet. Sincere apologies. But meanwhile, your homework assignment is to note it on your list of Must Haves. Unless you're a vegetarian or something. It does have actual oysters in there. So put it on your Must Have If Ever I Deconvert list, or something.