When Lion bought out the Mac's brewery (to be their pseudo-craft brand, parallel with DB's acquisition of Monteiths for same), they didn't really do much with the original site. Unlike their rivals, they never pretended that the beers were still coming from the formerly-independent source — so there was no need to maintain a potemkin brewery like DB did in Greymouth.
So when the relevant contractual restrictions lapsed, younger members of Terry McCashin's family1 (the patriarch himself still having restraints of trade against him as part of the sale having retired2) re-took the premises and slowly resumed work. They put out a thoroughly yawn-worthy (if you're me, at least) range of flavoured vodkas (fairly shamelessly aping the 42 Below range), and then some alarmingly-decent ciders under the 'Rochdale' name.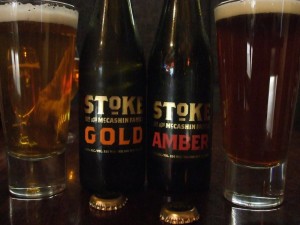 Then, at last, came the 'Stoke' beers. Which turned out a genuine let-down. Maybe the ironic problem is that they've too-faithfully gone back to their roots — the brewing scene has massively moved on since Mac's gained their fame, deserved at the time as it was.
But that wouldn't account for the distinctly unwelcome faulty / unfermented remnants-y flavours that made their way out of these beers, as I tried them one night with two fairly like-minded regulars after we all did a training session for a charity-thing I'm involved with. Wafts of dodgy budget homebrew helper come and go with odd and alarming randomness, leaving neither beer with much chance to endear themselves.
And the brandwank is just lazy and boring and awful, too. The beers are uninformatively marketed as 'Gold', 'Amber' and 'Dark'. Despite being willing to mumble-mumble past such actually-relevant and potentially-interesting questions such as "what style were you going for?" and "what varieties of ingredients did you chose?" — not addressing such matters in the label text — they took the time to trademark "Paleo Water" and harp on about how the water they use is 14,000 years old.3 I'm not alone in saying that the insight this sort of thing gives into a brewery's priorities is a bit worrying. It's definitely time to worry less about the 'brand', and to worry more (that is to say, at all) about making the beers not naff.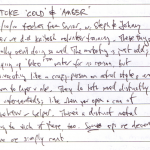 Verbatim: Stoke 'Gold' & 'Amber' 20/10/10 freebies from Savior, w/ Steph & Johnny after we did Kaibosh volunteer training. These things really aren't doing so well. The marketing is just odd; playing up 'Paleo'™ water for no reason, but equivocating like a crazy-person on actual style, even down to lager v ale. They do both smell distinctly of unfermenteds; like when you open a can of homebrew-helper. There's a distinct metal zing to each of these, too. Some sips are decent, some are simply rank.
---
1: Wait. Why the hell does Mac's have an 'a', but McCashin doesn't? Er, other than the one it does have. You know what I mean.
2: (Edited 15 January 2010.) I was misinformed. Terry's retired, which makes perfect sense, if you take the time to do the math on how old he is now. Thanks to Emma McCashin for the correction. For a reply to the rest of her comment, see below.
3: Firstly, who cares? Secondly, water is water is water. If it's pure, being older won't change it a damn. Thirdly, they can't decide — with their website fighting their label — whether they want to say "Paleo" or "Palaeo". Fourthly, the Paleolithic covers about two and a half million years, making the term an odd fit and a bit much of a reach. Fifthly, the vodka they make is '26,000' and named so because of the supposed age of the water involved — which is it? Or are they plumbing seperate irrelevantly-old aquifers? Are they brewers and distillers, or oddly-obsessed geologists? And lastly, who the fuck cares?