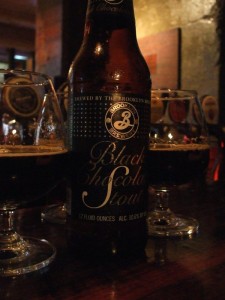 We've struck censorship once before in these pages, but here I find myself doing some redaction before the paper was ever scanned. I'd had a very weird run-in with some misbehaving Police on my way home from Hashigo, so I stopped by Malthouse and raided the fridge's supply of abandoned samples in search of something to follow 'Péché Mortel'.
I found this, and shared it with a plural number of colleagues who I shan't name; it's obvious enough that I had it, but they were a little more squiffy as to its status as 'abandoned', despite it having laid idle for months.
Unfortunately, despite its ludicrously high scores on Ratebeer.com, I just wasn't wowed. This could be attributable to several things (or some combination thereof):
Maybe I'd had too-many high-grunt beers before it. This is definitely a factor with beer; you just can't properly try that many 'new' things in a session, especially if they're quite strong. There comes a point at work where someone will ask for one more random recommendation from me (who is, quite naturally, well stocked with such), and my frank advice will be to return to something they know. Save the new things for next time.
Perhaps the beer had had a hard life before reaching me. Beers of this kind (strong, malt-driven) tend to age well, and the brewery are confident it would, but this was two years old and may have had some difficult (too hot, too rough) travels in its time. It's a relatively-fragile product, really, and that fact is a large part of what drives the controversy over 'grey market' imports — about which more later, I'm sure. Or,
Possibly it just Wasn't My Thing. The subjectivity of beer tasting should never be allowed to be forgotten. That you yourself don't enjoy something otherwise-almost-universally-acclaimed is no cause for concern. Especially if you know even just a little about what you're getting in for, you're perfectly entitled to not like something.
For me, at the time at least (I'd certainly give it another go, with that reputation), it was just too smack-in-the-face, too fumey — despite being only a nudge stronger than my previous beer's 9.5%, one particularly-apt comment on Ratebeer.com has it as smelling "like some sort of solvent poured into an ashtray". Just not nearly as lovely as the Péché Mortel.
Verbatim: Brooklyn Black Chocolate Stout 07/08 13/10/10 10/6% abandoned sample @ MH. 12 floz ÷ 3 w/ [redacted] Same gorgeous colour, same espresso head, fumier, though. Tarter chocolatey flavour. Strength is much more apparent in the face, too. Rapey, says [anonymous]. As you can see from the censorship, the internet publication potential is meeting with paranoia about the exact abandonedness of these things. Possibly a bit too full-on, actually. Or maybe just mis-timed.