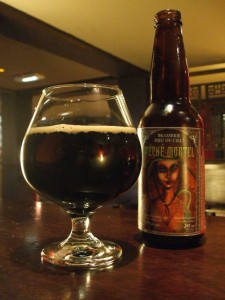 First, it must be said that a brewery which insists on ending their name with an exclamation point deserves a bucket of Awesome Points right out of the gate. Next, I'm delighted to have a second Canadian beer in my book so relatively-soon after my first.
I'd enjoyed my Tall Poppy (and its accompanying Japanese Chicken Curry pie) so much, and my 'early' night's time off spent just mooching in the pub was doing my brain a world of good, so I decided to stay for another — and then spent an agonising seeming-eternity trying to decide just what my 'nother would be.
Evidently, I settled on this. Adjusting for the Frogspeak, the brewery is called 'Oh My God!'1 and this ridiculously good little 'Imperial Coffee Stout' is named 'Mortal Sin' — though they don't explicitly indiciate which one they mean… It's freaking delicious. Big and gloopy and dark with an appropriately crema-looking head, it's a lovely thing to look at, and a serious wallop of chocolate and coffee up the nose when you give a swirl. The coffee flavours aren't all just bitter, plenty of that chocolate from the nose is there in the taste, too, along with nudges of smoke and earthy hops to dry out the back end of each sip, and send you back on another go-round of the gawp-swirl-sniff-taste cycle.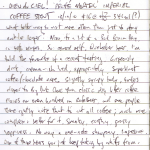 Verbatim: Dieu du Diel! 'Péché Mortel' Imperial Coffee Stout 13/10/10 $16 @ HZ 341ml(?) What better way to visit more often than just to stay a while longer? Also, it's a bit of a Bad Brain Day, in both senses. So: reward self. Quebecker beer. I'm told the favourite of a recent tasting. Gorgeously dark, crema-ish head, appropriately. Superblunt coffee / chocolate nose. Slightly syrupy body, borders closer to Big Dark Choc than classic dry bitter coffee. Places an even hundred on rateBeer, and some people there rightly note that it's not all coffee; much more complex + better for it. Smoky, earthy, grassy hoppiness. No way a one-note showpony. Impressive. One of those beers you just keep taking big whiffs from.
---
1: Well, literally 'god in the sky', but it's an idiomatic exclamation — much like the German 'gott in himmel!' — for surprise or suchlike.