My memory of this one gets a little hazy. I mean, the Creatures Stout was delightfully light, but it was followed by heavier things — as we continued to ramble, sit around and generally enjoy my unexpected Saturday night off. So far as memory (imperfectly) serves, I had a couple of Three Boys' magnificent Oyster Stouts, joined a round of whiskies with my flatmate and his friends, and was given a Schneider 'Aventinus' that was accidentally opened (instead of the other kind of Schneider in stock). I was, therefore, perilously close to violating the Rule Against, but — as is, admittedly, quite-often the case — proceeded regardless.
I couldn't not, really. I'd just missed out on a proper glass of the same brewery's 'Sculpin' IPA: a ludicrously-highly-regarded thing of which I only managed an instantly-impressive taste that (apparently) put me in mind of "angry peaches". The Hop Garden had bought their keg of Sculpin from the fine folks down the road at Hashigo Zake — in the spirit of a rising tide lifting all boats, and in the knowledge that your competition isn't really your competition in the usual sense, in this business — and there were a few bottles of this in the fridge, so it seemed the obvious backup choice.
The impressions that stay with me through the partial fog of over-indulgence are simply these: loveliness and balance. The hops are met with enough of a smooth body to maintain an enormous amount of drinkability for something so flavourful. And they aren't all about bitterness for the sake of it; they're there in their massive quantities for a reason — as a device to deliver deliciousness, not just a way to punch you in the head as an end in itself. Some American IPAs (and some things inspired thereby) can slip into cartoonishness and a weird sort of blinkered extremism that (for me) often (but not always) defeats a lot of the fun. This isn't one of those, not by a long shot; it's big, but equally even-handed and enjoyable.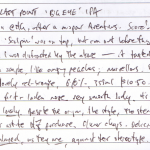 Verbatim: Ballast Point 'Big Eye' IPA 16/4/11 @ HG, after a mispour Aventinus. Score! Their 'Sculpin' was on tap, but ran out before this, while I was distracted by the above — it tasted, from a sample, like angry peaches; marvellous. This is a lovely red-bronze, 6.0%, 355ml $10.50. Fresh, fruit-laden nose. Very smooth body. It's utterly lovely. Despite the origin, the style, the strength. Another astute HZ purchase. Clever chaps. Delicious, and balanced, as they are, against their stereotype.