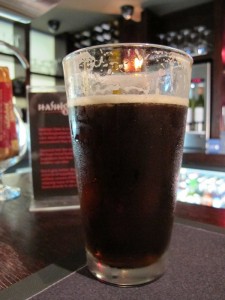 The night before writing this up, I was going through the neglected second half of Diary One and getting it all scanned. I found my first mention of Golden Bear in the entry for Beervana 2009. It's hardly auspicious; a pale ale of theirs is down as the day's only dud — its one-word annotation is simple: "Pleh". Not exactly a promising start, but one swiftly remedied as their subsequent mentions have either been moderately or glowingly positive.
And for this 'Black Magic', we'll be somewhere in between "moderate" and "glowing", I think. The name turns your mind to the recent Unnameable Trend, but the beer very-definitely isn't black; it's certainly very dark, but it's a rich brown through which you can actually shine a light. The not-quite-black shows up in the flavour, too — there isn't the roasted toastiness of a porter or stout, or 'Black IPA', come to that. What you have instead, especially as the hops start to pile bitterness onto the back of the palate, is a smoked Toffee Pop.1 It really is delightfully peculiar.
I was out for a wander and a beer or two since my non-nocturnal friends, with whom I'd been having dinner for Robyn's birthday, had all retired for the night. As I noted in the Diary, I'd taken along a bottle of Dogfish Head 'Midas Touch'; several of the people at the dinner were also at a beer tasting I hosted a while back where I had massively talked it up. Though never a "beer person", Robyn's always willingly tried whatever George and I have (increasingly desperately) thought she might maybe-maybe enjoy. It's been a long time coming, but she did rather like it. Which just goes to show you that all is not lost; no one is unreachable. Beer's just that diverse, I guess — though you might have to reach for an obscure-and-expensive bottle of an imported recreation-of-an-ancient-brew to get there.
Verbatim: Golden Bear 'Black Magic' IPA 2[6]/3/11 on tap @ HZ 6.4% $10 After dinner for Robyn's birthday, at which we re-tr[i]ed Midas Touch; delish. And Roo liked it! At last! Anyway, this, weirdly, isn't Black IPA. It's brown. Very dark brown, but definitely not black. Malt comes through very toffee / choc / caramel — smoked Toffee Pops, given that late bitterness, maybe. That does build nicely, too. Quite a peculiar thing.
---
1: Note for aliens from other jurisdictions: I mean the biscuit, not the Damien Rice song, which I hadn't heard of until it occurred to me to write a clarifying footnote. It (again the biscuit, not the song) is a delicious little thing — a small crunchy puck of lightly malty goodness, covered in a relatively-gooey caramel (nicely variable with temperature, so a from-the-fridge one is massively different from a hot-day-picnic one), and then entirely encased in a thin shell of chocolate.