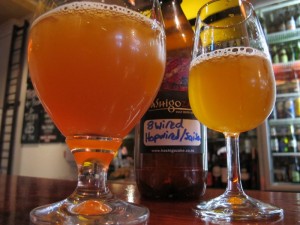 Just when we got a couple of kegs of the ever-delightful Hopwired back in at work, I heard that Hashigo had a keg of an experimental Saison-yeast variation. Which sounded like a prime opportunity for 'Science!'. I jokingly suggested to Dave that we should pour some pints, brave the Liquor Ban and meet halfway for a side-by-side tasting. He found the good plan buried in my nonsense, and brought a little-wee-flagon of the Saison-edition in to me at Malthouse. Bloody marvellous.
And what a fine experiment it was. Hopwired is a fantastic show-off of both brewing know-how and flavourful local hop varieties. Here in the Little Country, we've made passionfruity Riwaka hops, lemon-limey Moteuka hops, white-wine-grapey Nelson Sauvin hops — just to pick three that you'll find in Hopwired, nicely heaped into a big bowl of fruit salad and then thrown, with some vigor, into your face. In a surprisingly-enjoyable way.
Saisons are, generally, light-but-complex, summery ales descended from Belgian farmhouse brews — and one of their unifying features is a certain funk brought on by the particular yeast used. It's a difficult thing to describe; it's a bit of a "know it when you see it" situation. Think of that distinctly woods-y, barnyard-y, slightly-too-real scent that the outdoors produces on occasion.
In Hopwired, the yeast softens that hurled-fruit-salad aspect off somewhat, and insinuates oodles of that musty, funky character. Perhaps because Hopwired is a good deal oomphier than the bones of a Saison would ordinarily be, that charmingly-freakish side is firmly in check, though; it doesn't obnoxiously overwhelm things at all. There's a wineyness in there too, which was vaguely reminscent of that in Dogfish Head's stupidly-lovely 'Midas Touch' — it didn't really taste like actual wine; more like what I wish wine was. Altogether a worthy beer, very worthy as an experiment, and a fascinating side-by-side. I'd almost always opt for the original 'vanilla' Hopwired myself, if it were down to one or the other, but this was cracking good fun.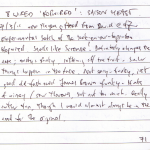 Verbatim: 8 Wired 'Hopwired': Saison yeast 7/3/11 wee flagon gifted from David @ HZ. Experimental batch of the back-on-our-taps-too Hopwired. Smells like Science! Definitely changes the nose; musty + funky, softening off the fruit. Similar things happen in the face. Not scary-funky, just good old-fashioned James Brown funky. Hints of winey / sour flavours, but not too much. Really rather fun, though I would almost always be in the mood for the original.