A hopefully-exhaustive summary for the apparently-perplexed:
Q — When should I use gender tropes in pitching my product and in the targeting or tailoring of my marketing?
A — Never.1
---
Footnotes:
1: That should do it for this topic. It isn't complicated. We shouldn't need to keep having this conversation. Seemingly inevitably, though, it came around again just recently and doubtless it will do so once more soon enough. I've been in the beer-selling business for a decade now and I'm still not sure things are improving. So fine. I'll elaborate, if I must.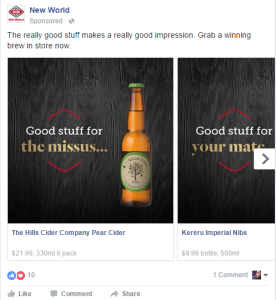 Last week, for example, New World (a local supermarket chain) started pushing Facebook ads introducing the winners of various categories in their recent beer and cider awards. One beer was pitched "for your mate", another was "for your boss", while the only cider featured was suggested as "for the missus" — falling into the boring old stereotype that cider is for women while beer is for men. To their credit, the PR team yanked the ad very quickly and sent the marketing people back to do it over — and they avoided resorting to the usual 'nonpology' formula of "sorry if you were offended". But in a conversation with their representative they ran the line that there's a long debate to be had on a role of gender in advertising, on which many points of view can be held — which is understandable and even predictable for a PR firm, but still a little depressing and worth addressing, because there really is nothing to this. Relegating my reasoning to a footnote is my little protest.