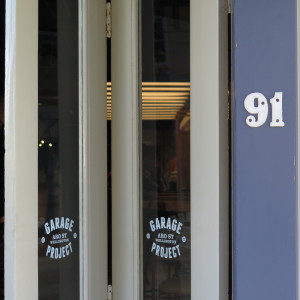 Way back in August 2011, the Beer Diary Podcast's first 'away mission' took place in the then-fledgling Garage Project, er, garage. Yesterday, George and I were invited to record another at the 'dress rehearsal' test-run of their new bar just up (and over) the road — which opens today. As it turned out,1 I spent most of the four year stretch between episodes actually working at the brewery myself and though the idea for this place was locked in a while ago, I didn't personally work on it and not much non-paperwork progress had been made before I left. So it was a real treat to drop in and see what they'd been up to on the eve of this, their latest Next Big Thing. The episode will be online soon2 and disclaimers ahoy, obviously, given my lengthy association with the company and the fact we were there on a special invite and drinking on their dime, but I just wanted to share a few photos and some brief first impressions — because the place is a) gorgeous and b) interesting.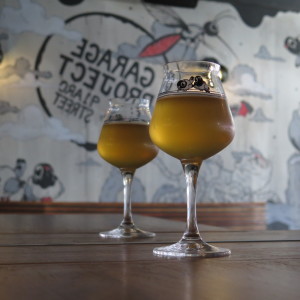 It's tiny, for a start, and that put me very much in mind of the 24/24 series that the brewery itself started with;3 a little bar, so close to the mothership, will let them tinker in the open and test and evolve ideas before spawning bigger operations further afield — whether that's downtown, or overseas, or one, then the other. Launching a much-larger venue as their first bar would've been entirely feasible, given their level of success, but this fits with how they've done things before and feels very them. The decoration takes cues from their sprawling family of label artwork and the design is reminiscent-enough of their existing cellar door, so it all hangs together well already and should be even nicer once it's lived-in a while and the final touches are finished off. Aro Valley has until now lacked a local, as well, so it'll be fascinating to see how the locals react and to gradually get to know a few of the soon-to-be regulars.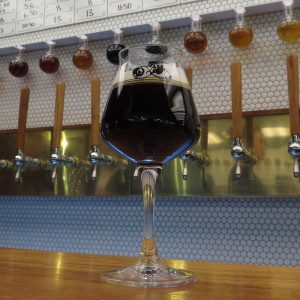 Among its quirks, I have my early bets for which will prove problematic and need revision and what'll be a hit and radiate out among other bars — their own and otherwise. How they're serving their beers looks hugely promising; gorgeous glassware,4 a broad range (eighteen taps, with two handpulls inbound from the UK and a dedicated cask fridge to supply them), with lines at different temperatures, and the ability control gas pressure and mix for each beer thanks to some nice hardware like adjustable taps and a Flux Capacitor — a fitting thing to get going in October 2015. So my White Mischief (a 2.9% peach gose) was cold and had lively carbonation, emphasising its snappy acidity, while the Rum & Raisin was considerably warmer and softer, which works nicely for something so dark and rich and boozy. Garage Project always makes a splash at festivals with unique ways of presenting beer; the famous fire-poker porter, the 'flat white' blend of coffee stout and nitro cream ale, IPA slushies, beer ice cream, and such.5 This place will let them do that more regularly and more broadly, to resurrect favourite old tricks, and prototype new ones. Win-win-win. The only sticking point — especially for locals and, um, normals dragged along by pilgrims — might be the non-beer. There's the locally-ubiquitous Six Barrel Soda, but currently all the booze in the building is GP-brewed. An on-license in New Zealand mandates the availability of a sub-2.5% beer, so they brewed one (and it's great, actually), but there's no wine or spirits at all, for the simple reason that there's (as yet!)6 no GP winery or distillery. It's a bold move, and one worth trying7 — and if too many mixed groups balk at it the brewery has at least done enough work with other producers that bringing their stuff in to fill any gaps could still feel cozy and focussed enough.
It's awesome to see the increasingly-numerous staff so excited, and to see the founders so chuffed that such cool fruits are sprouting from years of slog. Welcome to the world, 91 Aro Street; you'll be an excellent little addition to the many maps I scribble for people at bars and tastings.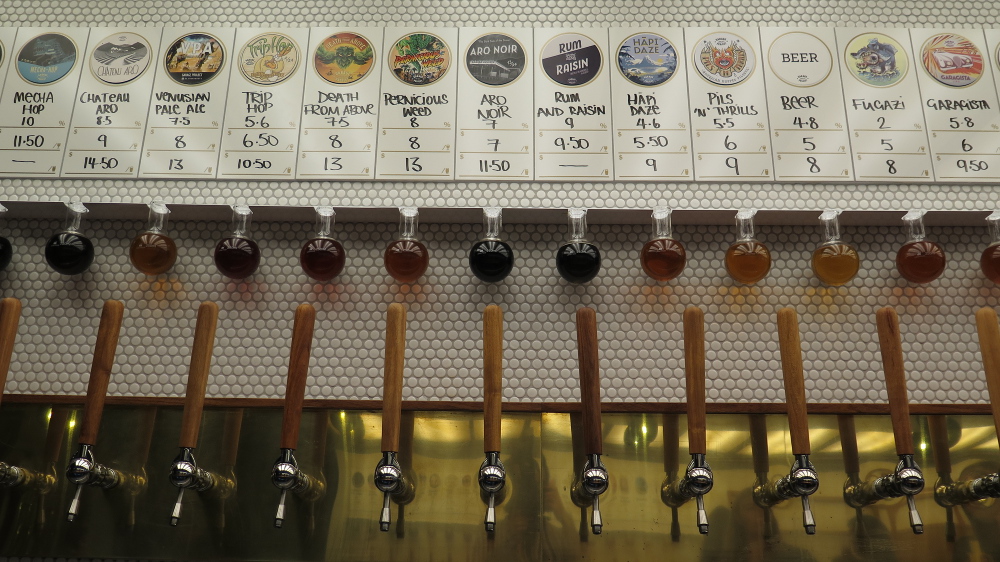 ---